All Articles:
Record of Agarest War Zero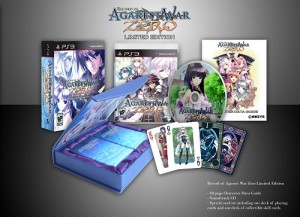 Aksys Games announced today that Record of Agarest War Zero will get a PS3 adn Xbox 360 limited edition retail version when it ships sometime in June 2011. Available for $59.99, what most of you pay for regular editions, the package includes a 34-song soundtrack, a 48-page character data guide filled with artwork and stats of all playable characters, and a special card box that holds decks of Agarest-themed playing cards and collectible skill cards. The regular edition will retail for just $49.99.
Zero will be a prequel to last year's Record of Agarest War. The game has a unique take on a multi-generational story, where plays can "influence their relationship with the game's many beautiful young women." Awesome.