All Articles:
Red Faction: Battlegrounds

Microsoft has performed their weekly update of the Xbox Live Arcade and added two new titles to the download service today.
The Dishwasher: Vampire Smile is the latest stylish side-scroller from Ska Studios. Priced at 800 Microsoft Points ($10), it tells the continuing tale of Yuki's bloody quest for revenge.
Also available this week, and also available for 800 Microsoft Points, is THQ's Red Faction: Battlegrounds. The vehicular combat game features four-player modes and rewards players with Red Faction: Armageddon unlockables (which releases on May 31).
Danny Bilson, THQ's Executive Vice President of Core Games said, "This explosive arcade game is a throwback to top-down, four-player racers of the past, yet with story tie-ins and unlockable weaponry that you will experience in our most futuristic game, Red Faction: Armageddon. Great on their own, playing either will make the other that much more enjoyable – exactly what we want from our transmedia projects."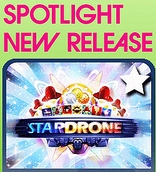 It's Tuesday and Sony has added two new games to the PlayStation Store along with a huge batch of PlayStation Plus content and other discounts.
This week's featured release is StarDrone, a "high-speed action thriller with a mix of arcade action, pinball, breakout, physics and collect-the-objects — and it supports PlayStation Move." Whew. The game should win awards just for the awesome description. Also available this week is Red Faction: Battlegrounds, a vehicular combat spin-off of the popular Red Faction series.
PlayStation Plus users will get a free download of one of the greatest games of all time, Sonic the Hedgehog 2. And lovers of discounts can get the excellent Lara Croft and the Guardian of Light for $7.49.
More information on this week's releases can be found after the jump and more details on all the new add-ons added to the PlayStation Store can be found at the PlayStation.Blog. (more…)