All Articles:
Resistance: Burning Skies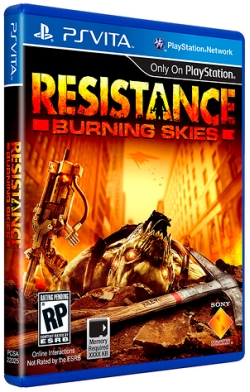 Sony has performed their weekly update on the PlayStation Store and added a pair of new Vita games, a pair of new PSN games, and a pair of new full PS3 games.
This week's Vita update features Sony's new FPS for the handheld, Resistance: Burning Skies. Also available is a chess simulator, Pure Chess.
And speaking of Pure Chess, the game is also available on the PSN. Both versions include PS3/Vita cross-platform play, but sadly, each version of the game is a separate download. So if you want it on both the PSN and the Vita, you'll have to buy it twice. If you'd prefer something a little less cerebral in your PSN downloads, also new is the off-road racer Mad Riders.
On the PS3 Full Game front, Sony has added Assassin's Creed: Revelations and Rayman Origins to the store this week.
Finally, there's more Rayman in the PS2 Classics section as Rayman Arena has also been added as well as a Vita demo of Gravity Rush.
Hit the jump for a complete rundown on all of these titles, and head over to the PlayStation Blog for a look at this week's new game add-ons. (more…)