All Articles:
RIO

Next week will be one of the biggest weeks for new releases this year, but that doesn't mean publishers are taking this week off. Instead, they've put together quite possibly the oddest combination of games I've ever seen.
First up is the PS3 (with Move) and Xbox 360 (with Kinect) versions of Michael Jackson: The Experience. The King of Pop will be strutting through your living room with several new songs and a "Singing Mode." If you need to feel the rhythm on the go, Sony will release the PSP rhythm game Patapon 3 this week as well.
Two big games for the kids will be in stores this week, a video game adaptation of the movie Rio (DS, PS3, Wii, Xbox 360) and the uDraw-powered SpongeBob SquigglePants (Wii).
Finally, we have two games that start with D and have been released for other platforms before: Divinity II: The Dragon Knight Saga (Xbox 360 this week, previously on the PC) and Dance Dance Revolution (Xbox 360 this week, previously on the PS3 and Wii).
The full list of the rest of this week's new releases can be found after the break. (more…)
Posted in

DS, News, PC, PS3, PSP, Wii, Xbox 360
Tagged

Dance Dance Revolution, Divinity II: The Dragon Knight Saga, Michael Jackson: The Experience, Patapon 3, RIO, Spongebob Squigglepants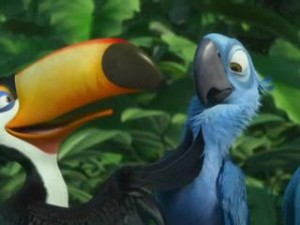 THQ and Twentieth Century Fox today announced the standalone game adaptation, Rio, for the latest CG extravaganza from Blue Sky Studios. This game will be separate from the movie's cross-over with Angry Birds, which Nintendo President Reggie Fils-Aime called "a great piece of experience," in an apparent loss of understanding of the English language.
The movie depicts a group of birds and their adventures on the Rio de Janeiro. The game will be a multiplayer party game with 40 mini-games across five modes that players can easily hop in and out of. Rio will be released for every platform under the sun except the soon to be irrelevant PSP (re: Xbox 360, PS3, Wii, Nintendo DS). The DS version will be different from its big brother home console version, in which the character Blu discovers hip hop and Latin beats in a rhythm-style game.
Martin Good, THQ's Executive Vice President of Kids, Family and Casual Games, stated "Rio's humor, compelling characters, thrilling story, colorful characters and wonderful music inspired us to create a unique and imaginative game experience."
The game will be available April 12, three days before the film hits theaters.