All Articles:
Rock of Ages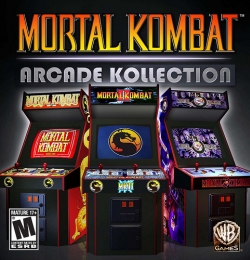 This week's additions to the Xbox Live Arcade are an almost mirror image of yesterday's PlayStation Store update.
The Mortal Kombat Arcade Kollection, The Baconing and Ugly Americans: Apocalypsegeddon all make the jump to the XBLA today. Also available is Atlus's Rock of Ages, a tower defense game with a twist:
A rock-solid combination of rock-rolling action, deep strategy, and captivating art and music from different ages of history, this is a game of crush or be crushed! Two castles stand opposed; one is yours, the other is your enemy's. They're a jerk and their castle sucks, so you're going to try to smash it using an enormous boulder. Even as they build up their defenses, you're ready to roll over them in order to raze that unsightly tower. But beware! There's a giant boulder headed your way, too.
The Mortal Kombat Arcade Kollection, Ugly Americans: Apocalypsegeddon and Rock of Ages are all available to download for 800 Microsoft Points ($10). The Baconing has been priced slightly higher at 1200 Microsoft Points ($15).