All Articles:
Ryse
As we continue to march towards the Xbox One's launch, I am reminded of the mighty Roman Legion and their distinctive "tortoise" style of fighting. And with that rather messy segue out of the way, I can now introduce the launch trailer for Ryse: Son of Rome.
Developed by Crytek, Ryse was originally announced as an Xbox 360 exclusive, but the game moved to the Xbox One earlier this year and it will be released alongside the next-generation system this Friday, November 22.

PAX Prime practically takes place in Microsoft's backyard and the consolemaker will have a large presence at the show, taking over three booths (#412, #422, and #432) and a hefty chunk of the Washington State Convention Center. But they only plan to have eight games on display, and one of them is on loan from Electronic Arts.
Four Xbox One games will be playable on the show floor including Crytek's Ryse: Son of Rome, Turn 10's Forza Motorsport 5, Double Helix's Killer Instinct reboot, and DICE's Battlefield 4.
Microsoft also plans to erect a massive theater in their booth that will showcase developer-guided demos of four additional games on a 30-minute rotation. The rotation includes new looks at Rare's Kinect Sports Rivals:, Capcom's Dead Rising 3, the game creation game Project Spark, and the lone Xbox 360 game in their booth, Fable Anniversary. According to Larry "Major Nelson" Hyrb, "other surprises" may be in store for the Xbox booth as well.
This year's PAX Prime expo runs from August 30 through September 2. More details on all of the demos can be found after the break. (more…)
Posted in

News, Xbox 360, Xbox One
Tagged

Battlefield 4, Dead Rising 3, Fable Anniversary, Forza Motorsport 5, Killer Instinct, Kinect Sports Rivals, PAX Prime 2013, Project Spark, Ryse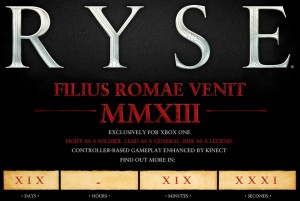 Ryse, Crytek's Kinect-exclusive game of Roman combat, was first revealed at E3 2011. In the two years since, almost nothing new about the game has been revealed. But this morning, Crytek updated the Ryse placeholder page on their website, confirming that the game has made the jump to the Xbox One.
Fight As A Solider. Lead As A General. Rise As A Legend.
This image actually gives us a ton of new information about Ryse, such as the fact that it's no longer Kinect-exclusive. The game is now played mainly with a controller with Kinect enhancements. The Latin phrase on the page, "Filius Romae Venit MMXIII," also tells us that the game is more than likely a launch title. The literal English translation is "The Son Came to Rome in 2013."
Finally, the countdown clock at the bottom of the image expires in "XIX," or 19, days. Microsoft's E3 Press Conference will take place on June 10, exactly 19 days from now. So prepare to learn more about Ryse at E3.