All Articles:
Sketch Nation Studio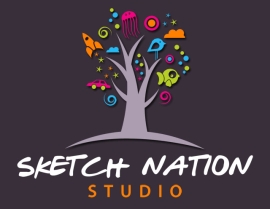 Today, Engineous Games released a free game creation tool for the iPhone, iPod Touch and iPad called Sketch Nation Studio that allows you to create your own iOS game with no technical background required.
The five "genres" of games you can make currently are Up-Jumping, Down-Jumping, Horizontal Jumping, Horizontal Running, and Horizontal Flying. But who or what will be doing all this jumping or flying?
You can draw your own characters using in-app drawing tools, or take snapshots of drawings on paper with your device's camera and import them. You can share your art with other players within the game, which allows you to collaborate with friends if you're into that.
There are three modes, with varying degrees of depth. Simple Mode allows you to quickly create a basic game. Advanced Mode gives more control, and allows you to customize wvery aspect of gameplay. Stand Alone Mode allows you to actually sell your game on the App Store for a small profit.
Sketch Nation Studio is free, but downloading user-generated games and art costs virtual currency called Sketch Bucks. You earn these Sketch Bucks if a game or art you created is downloaded or if you play games. There's also the option of purchasing them in-app if you don't want to upload content.