All Articles:
Sonic Adventure 2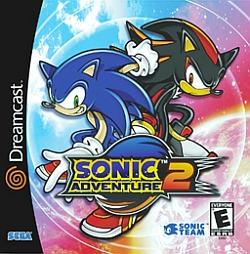 Microsoft has been so consistent with their "Xbox Live Arcade Wednesdays" thing that it's easy to forget they occasionally do Friday updates as well. Yesterday was one such Friday, as two Sega classics were added to the XBLA.
Sonic Adventure 2 is now available in glorious high definition for 800 Microsoft Points ($10). However, if you're also looking for the special Battle Mode bonus content that was created for the GameCube re-release, that's part of a separate DLC pack.
In the fight between heroes and villains, will you choose to save the world or conquer it? The hunt for the Chaos Emeralds is on and battle lines have been drawn between Hero and Dark. Experience two unique adventures featuring both long-time heroes and new and returning villains as they battle for the fate of the world! Sonic Adventure 2 makes its return on Xbox LIVE Arcade with a full cast of playable heroes and villains, exciting two-player competitive modes, Chao Gardens, and more than 30 action-packed stages, all remastered in HD!
Also available this week is Nights Into Dreams. The Saturn cult classic has been priced at 800 Microsoft Points ($10) and includes the Christmas Nights expansion. Oh Sega, so greedy and so generous at the same time.
Slip off into the dream world and go on an aerial adventure as Nights in this classic Saturn remake. Collect Ideya (colored orbs), rack up points, and battle bosses to help Elliot and Claris save Nightopia from Wizeman the Wicked. With all seven original dreams, enhanced graphics, achievements, leaderboards, and playable content from Christmas Nights, this beloved title is back and better than ever.