All Articles:
South Park: Tenorman's Revenge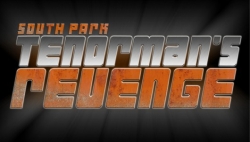 South Park Digital Studios has revealed that South Park: Tenorman's Revenge will be available to download from the Xbox Live Arcade on March 30. The XBLA-exclusive platformer will be priced at 800 Microsoft Points ($10).
Tenorman's Revenge was developed by Other Ocean and sees the titular Scott Tenorman attempt to take his revenge not just on Cartman, but the entire town:
Fans can play locally or online as Stan, Kyle, Cartman and Kenny as they travel through time and space to battle Scott Tenorman and his army of Ginger robots before they destroy South Park and, more importantly, the boys' Microsoft Xbox 360 hard drive.
Oh, by the way, I realize the "South Park" reference in the article title comes from the first season. It's been a long time since I've seen the show, mmm'kay?