All Articles:
Spider-Man: Shattered Dimensions

After skating his way onto the PS4 earlier this year, Tony Hawk returns to the PS3 with today's PlayStation Store launch of Tony Hawk's Pro Skater 5. But skateboarding's biggest star isn't the only familiar face appearing in a new place today…
TowerFall Ascension, Matt Thorson's manic multiplayer archery battler, is now available to download for the PS Vita. It's a Cross-Buy freebie if you already own the PS4 version, and it's also compatible with the PlayStation TV if you don't always want to be on the go.
PaRappa the Rapper 2 is the latest PS2-On-PS4 release from Sony, so now your rapping skills can earn you a few Trophies in addition to bragging rights.
Spider-Man: Shattered Dimensions isn't available on a new platform today, but the best Spider-Man game in years can now be downloaded for the PS3 through the PlayStation Store.
Finally this week, Sierra and The Odd Gentlemen have released Rubble Without A Cause, the second episode of their King's Quest reboot, for the PS4 and PS3.
A complete look at this week's new releases can be found after the break and a rundown of this week's new game add-ons and discounts can be found at the PlayStation Blog. (more…)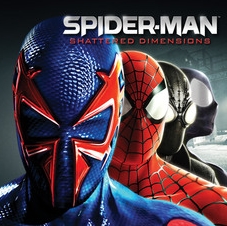 As Spider-Man Uncle Ben always said, "With great power, comes great responsibility." So it seems rather fitting that Activision is about to bestow great power and great responsibility on Beenox, the developer of last Fall's Spider-Man: Shattered Dimensions.
The megapublisher has announced that Beenox has been named the primary developer on upcoming games starring the superhero. While Activision didn't go into specifics about the wallcrawler's next video game adventure, an investor's call in November revealed a new Spider-Man game is in the works for a 2011 release.
For their part, executives at Beenox and Activision seem excited about the arrangement.
"Beenox's creative vision reinvigorated the Spider-Man gaming experience among critics and fans in Spider-Man: Shattered Dimensions," said Patrick Kelly, Senior Vice President, Activision Studios. "We can't wait to see where this talented studio will take this franchise in the future."
"We are thrilled with this opportunity to continue our close, collaborative relationship with Activision, Marvel and everyone's friendly, neighborhood hero, Spider-Man," said Dee Brown, Studio Head, Beenox. "Being able to map out Spider-Man's interactive future gives us the creative freedom to really craft the best gaming experience for the fans."