All Articles:
Sportsfriends
That's right folks, it's the moment we've all been waiting for… the unveiling of next month's PlayStation Plus games! Starting September 2nd, the following titles will be free – so long as you're a PlayStation Plus subscriber:
PlayStation 4
Velocity 2X
Sportsfriends
PlayStation 3
PlayStation All-Stars Battle Royale
Hoard
PlayStation Vita
As you may have noticed, the list includes Hello Games' Joe Danger. The indie publisher's stunt sim will be available for the Vita for all on September 2, but only Plus subscribers will be able to download it for free.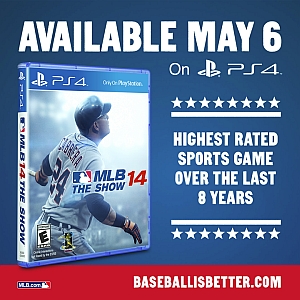 Gather all your friends, because its Sportsfriends time. The retro-inspired multiplayer game offers four unconventional twists on the standard sports game (including competitive pole vaulting, a Smash Bros./dodgeball mashup, and four-goal soccer) and pulls them all together in one awesome package for the PS3 and PS4. Speaking of sports, MLB 14: The Show has also been released for the PS4 and the acclaimed soccer management sim, Football Manager Classic 2014, is now available for the Vita.
The ancient sport of "killing lots of dudes" represents itself well in this week's PlayStation Store update as God of War Collection (a compilation of God of War and God of War II) is now available for the Vita (as a PS3/Vita Cross-Buy game) and action RPG Bound By Flame has been released for the PS3 and PS4. Are you not entertained?
Finally this week, the beloved PS2 RPG Shin Megami Tensei: Nocturne has been added to the PS2 Classics storefront.
More information on all of these titles (and a few additional new releases) can be found after the break. A complete rundown of this week's new game add-ons can be found at the PlayStation Blog. (more…)
The Die Gute Fabrik collective (which is German for "The Good Factory") has announced that their manic multiplayer game, Sportsfriends, will be released for the PS3 and PS4 on May 6. The game, a retro-styled collection of four distinct games, is priced at $14.99 and if you purchase the PS3 version through the PlayStation Store, you'll receive an additional PS4 download for free. Strangely, it doesn't work the other way around).
Each game in the Sportsfriends collection focuses heavily on local multiplayer play in ways that you've never seen before:
"BaraBariBall" is a Smash Bros./basketball hybrid where players attempt to keep a ball away from the other team, scoring points when the balls hits the ground on their side.
"Super Pole Riders" is competitive pole-vaulting (and yes, you can make pole-vaulting competitive).
"Hokra" is a two-on-two soccer-style game that places four goals on the field and gives extra points for how long you keep the ball in the net.
Finally, "Johann Sebastian Joust" is a party game that encourages players "to jostle your opponents' controllers while protecting your own."
Sportsfriends is also in the works for PC platforms (Windows, Mac, Linux) and will be available to download through Steam soon.