All Articles:
Star Fox 64 3D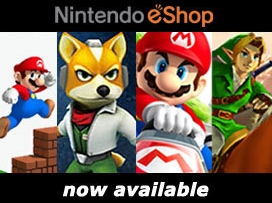 Nintendo has gone back and added four of 2011's biggest retail 3DS games to the 3DS eShop. Super Mario 3D Land, The Legend of Zelda: Ocarina of Time 3D, Star Fox 64 3D, and Mario Kart 7 are all now available for your downloading pleasure.
Another retail 3DS game, the fashionista fantasy Style Savvy: Trendsetters, will be added to the eShop on October 22.
Here's a look at the rest of the new additions for Nintendo's download services this week:
Sparkle Snapshots 3D (3DS eShop) – Use your Nintendo 3DS system's cameras and this software's easy-to-use camera settings to take 2D pictures, and then personalize your shots any way you want with layers of stickers, ribbons, pens and other 3D effects.
Gradius (3DS eShop) – Blast your way to victory in this classic side-scrolling shooter.
Puzzler World XL (DSiWare) – Boasting over 1,800 different puzzles, with favorites like Sudoku, crosswords and unique offerings like Link-A-Pix and Pieceword, puzzle fans are sure to find a wealth of fun in this unprecedented collection.
Reel Fishing Ocean Challenge (Wii Shop) – It's a thrilling fishing experience for novices and master anglers alike!