All Articles:
Star Fox Guard
"We need your help, Star Fox!"
Team Star Fox is back and the galaxy's greatest heroes make their Wii U debut this week in a pair of new games. Star Fox Zero, which was co-developed by Nintendo and Platinum, pits the quartet of pilots against Andross once again. Players will get to fly the familiar Arwing and rumble into battle with the Landmaster Tank, but they'll also be able to get behind the controls of the Walker and the Gyrowing flight drone.
Also available to download tomorrow is Star Fox Guard, a tower defense game that asks players to scan video feeds from 12 different cameras to protect Grippy Toad's factory.
Elsewhere on the Wii U eShop, Mario Party DS is now available to purchase through the system's Virtual Console service. Mario and company will tangle with more than 70 minigames this time around in four game modes. And The Pinball Arcade is finally available to download on the Wii U. In the works since before the console's launch, pinball fans will no doubt flip over this news.
Finally, Dreamals is like a "river crossing problem" come to life, and Blockara is a falling block puzzler where players have to build spells with the blocks. Both are now available to download for the Wii U.
More information on all of these games can be found after the break. And don't forget to check out the Launch Trailer for Star Fox Zero that's been embedded up top. (more…)
Nintendo and Shigeru Miyamoto first unveiled Project Guard during E3 2014. As one of the famed developer's more experimental projects, Project Guard tasked players with positioning cameras around a castle to take out encroaching waves of enemies, similar to a tower defense game. Today, the game was re-revealed as Star Fox Guard, though players will still jump from camera-to-camera to stop hostile invaders:
Players set up 12 cameras to find and defeat enemies who are attacking the mining site of Slippy Toad's uncle, Grippy Toad. The game includes about 100 stages, but players can also create their own stages by editing the placement of enemies and uploading their levels online.
Star Fox Guard will be released for the Wii U on April 22, and players who purchase Star Fox Zero (for $59.99) will receive it for free. However, it'll also be available as a standalone download through the Wii U eShop for $14.99.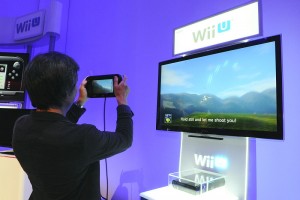 Nintendo's E3 Video Presentation will be available in a little under two hours, but Time Magazine has revealed one of their surprise announcements a might early. The magazine published (and then pulled) an interview with Shigeru Miyamoto where he discusses Star Fox Wii U and its brand new control scheme. The picture to your right appears to show Mr. Miyamoto piloting an Arwing by tilting the Wii U GamePad. Players will also be able to control the Landmaster Tank and a new helicopter-like vehicle that requires two people to pilot. According to Time, Star Fox Wii U is "at least a year away."
The interview also mentions two experimental games, "Project Giant Robot" and "Project Guard."
"Project Giant Robot" is a fighting game where players will bob and weave while holding the Wii U GamePad and punch or grab with the analog sticks. Meanwhile, "Project Guard" is a twist on the popular tower defense genre where players use the Wii U GamePad to jump from camera to camera within a castle to blast away at encroaching waves of enemies.
Hopefully, we'll learn more about these games at Nintendo's noontime (Eastern Time) event.