All Articles:
Story of Seasons

Nintendo 64 and DS games have been added to the Wii U eShop… and it's about time!
Announced yesterday as part of Nintendo's latest Nintendo Direct presentation, Super Mario 64 and Yoshi's Island DS are both now available to download on the Wii U. And if you're going to start offering games from a new platform on the Virtual Console, it's definitely a good idea to start with a pair of critically-acclaimed titles such as these.
More N64 and DS games will follow in the future with WarioWare: Touched! penciled in for April 9 and Donkey Kong 64 for April 16.
But if you're looking for new releases on the 3DS available this week, there's a few of those too. First up is Story of Seasons, the next official game in the Harvest Moon series from Marvelous. If you're wondering about the name change, it's because the separation of developer Marvelous and former publisher Natsume. Natsume owns the "Harvest Moon" trademark and they weren't willing to sell it to the developer or new publisher XSEED. Also available is BoxBoy!, a black-and-white puzzle platformer from the creators of the Kirby franchise.
More information on all of these games (and a few other new releases) can be found after the break. (more…)

Batter up! Opening Day is just a week away and Sony wants to make PlayStation owners are ready with the release of MLB 15: The Show on the PS3, PS4, and Vita. The franchise is celebrating its tenth anniversary this year and, with the demise of 2K's Major League Baseball 2K series, its the only game in town when it comes to baseball simulations. The rest of this week's lineup has a little bit of something for everyone.
XSEED will release Story of Seasons, which is technically the latest game in the farm-tastic Harvest Moon series, for the 3DS. XSEED recently acquired the publishing rights to the series from developer Marvelous, unfortunately, the rights to the Harvest Moon name remain with Natsume.
But speaking of distinctly Japanese franchises, Koei Tecmo will release Toukiden: Kiwami for the PS4 and Vita. The monster-hunting game is actually an expanded version of Toukiden: The Age of Demons, which was released last year solely for the Vita.
A pair of PC games will also be released this week as EA will launch the first Sims 4 expansion, The Sims 4: Get To Work. Get To Work lets you become a doctor, a detective, a scientist, or a shopkeeper in your quest for career fulfillment. Out There: Omega Edition, a space exploration sim, will also be released this week.
Finally, Square Enix has a pair of triple packs set for release. The Ultimate Action Triple Pack will be released for the PS3 and Xbox 360 and it'll include Just Cuase 2, Sleeping Dogs, and Tomb Raider. Meanwhile, the Ultimate Stealth Triple Pack will also be released for the PS3 and Xbox 360, but it'll contain Deus Ex: Human Revolution, Hitman: Absolution, and Thief.
Play ball!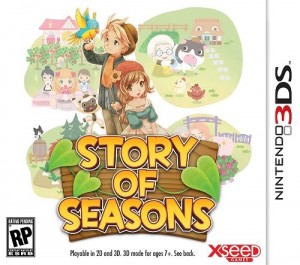 Earlier this week, XSEED Games confirmed on their website that they will publish Marvelous' next Harvest Moon game, Story of Seasons, in North America. The game will be exclusive to the Nintendo 3DS, and is already available for pre-order at North American retailers for $39.99.
Yoshifumi Hashimoto, Head of Development at Marvelous AQL, said: "Story of Seasons represents a new chapter in our amazing tale… We are creating a new experience that will carry on the spirit of Bokujo Monogatari, and in doing so, will fulfill our loyal fans' expectations and desires while ushering in a new generation of games to come."
The game has been out in Japan since earlier this year, and it allows players to create a character that is fully customizable, as well as some new items to decorate your house with – including items from the Super Mario Bros. games. There's also a brand new StreetPass option, bringing multiplayer to the series. It sounds like they're taking more than a few pages out of the Animal Crossing book!
Story of Seasons will be released in Winter, but you can check it out at the XSEED Games booth (#5436) if you're going to the E3 Expo this year.