All Articles:
Street Fighter X Tekken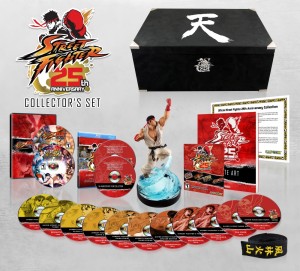 This year marks the 25th anniversary of the Street Fighter series and Capcom plans to celebrate in style. And if you've got $149.99 lying around, you can celebrate too, because that's the cost of entry to obtain the Street Fighter 25th Anniversary Set. Naturally, you have your choice of platform: PS3 or Xbox 360.
Set for release on September 18, the Anniversary Set will be packed in a stylish box which includes all four Street Fighter games released this generation: Super Street Fighter IV: Arcade Edition, Street Fighter X Tekken, Super Street Fighter II Turbo HD Remix, and Street Fighter III: Third Strike Online Edition.
Whichever format you choose, the box will also include a massive collection of bonus materials:
Exclusive Video – The two-disc Blu-Ray set includes a documentary that highlights the profound influence the franchise has had on fans – and vice versa – throughout the years. The collection of videos also includes Street Fighter IV and Super Street Fighter IV anime movies as well as all episodes of the "Street Fighter" animated series and Street Fighter II: The Animated Movie.
Light-up Ryu Statue – A specially commissioned and highly-detailed collectable Ryu statue stands prominently at 8" tall and features the iconic character in mid-Shoryuken, with flames lit from below.
11-Disc Soundtrack – Street Fighter game music spanning the past 25 years, in addition to remixes and fan-created music inspired by past Street Fighter games.
64-page Hardcover Art Book – A tribute to Street Fighter game fans from all over the world, the art book includes fan pieces submitted by professional and aspiring artists alike.
Ryu's Belt – Created to regulation specs, the full-size martial arts black belt is a replica of the one Ryu wears and even includes his classic "Fūrinkazan" in kanji!
Certificate of Authenticity – Each Collector's Set comes individually numbered complete with a certificate of authenticity.