All Articles:
Sucker Punch: Annihilation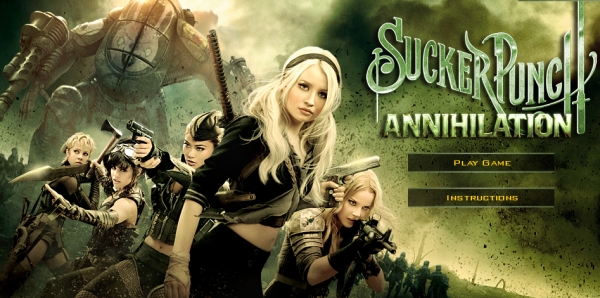 Sucker Punch has taken the geek world by storm and its March 25th theatrical debut will likely be the film event of the Spring. And why not? The movie's world is a modern riff on Alice in Wonderland that pits Babydoll (and four of her friends) against armies of Nazis, samurais, orcs, Terminators, Transformers and one fire-breathing dragon. Just look at the latest trailer, it's distilled awesome.
To go along with the movie's impending release, Warner Bros. has posted a very impressive third-person action game, Sucker Punch: Annihilation, on the film's website. In Annihilation, players can control any of the film's five femme fatales – Babydoll (Emily Browning), Sweet Pea (Abbie Cornish), Blondie (Vanessa Hudgens), Amber (Jamie Chung) or Rocket (Jena Malone) – as they fight wave after wave of samurais, orcs and other assorted monsters.
The game includes three areas (Feudal Warriors, Castle Siege, Distant Planet) and allows players to earn achievements (that can be shared on Facebook) and experience points to make your chosen girl a more formidable fighter.
Sucker Punch: Annihilation is a great way to spend your Interwebbing time and it really makes me wonder what could have been if WB Games had decided to go around with a full-fledged Sucker Punch for the PS3 or Xbox 360.