All Articles:
Super Bonk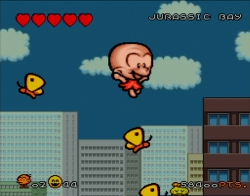 It's Monday morning and Nintendo has updated the Wii Shop Channel and the DSiWare Store with new games for all.
The biggest game in this week's batch (or at least, the one with the biggest head) is Super Bonk. The Super NES classic was Bonk's first (and in America, the only) foray onto the system.
If headbutting platformers aren't your thing, the WiiWare service will see the addition of Planet Fish, a puzzle game set in an aquarium.
The DSiWare Shop will receive three new games this week: A Fairy Tale, a puzzle game where fairies have to save a magical kingdom; Absolute Baseball, a baseball management sim; and Anonymous Notes Chapter 1: From The Abyss, an episodic RPG with an "infinitely extending dungeon."
More information on all of these games can be found after the break. (more…)