All Articles:
Tactics Ogre: Let Us Cling Together

Square Enix has caught a lot of flak over the last few years for milking Final Fantasy and Dragon Quest dry, but they've lately begun to revisit their rarer classics, much to the elation of fans. One such title is Tactics Ogre: Let Us Cling Together. Originally developed at Quest, it is the spiritual predecessor to Final Fantasy Tactics and its progeny. This version of the game has re-imagined nearly every aspect of the original to produce the best possible presentation of a masterpiece. With its superbly delicious cornucopia of content, Tactics Ogre is like Thanksgiving for gamers. (more…)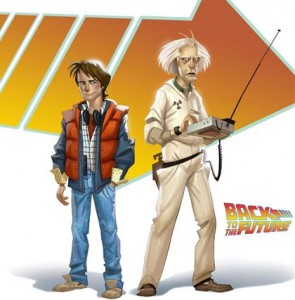 This week should be pretty special for many different types of gamers on the PSN, especially fans of Telltale Games. Most notable on the PlayStation Store update this week is Back to the Future: The Game, featuring Christopher Lloyd himself as Doc and the best Michael J. Fox impersonation ever. I've heard nothing but good things about this game so you couldn't go wrong with a $19.99 subscription. Also from the folks behind Monkey Island comes four new Sam & Max episodes exclusive to the PSN, for $8.99 a piece.
Acceleration of SUGURI X-Edition and ATV Pure round out the new games list with insane robot combat and quad racing, respectively.
There's also a few notable entries outside of new games. The demo for the much-anticipated Yakuza 4 is available for PlayStation Plus subscribers, and the Killzone 3 single player demo is available in 3D and normal for all PSN gamers. Definitely check that one out if you haven't already.
Most importantly for me, as you may tell from our podcasts, is Tactics Ogre: Let Us Cling Together. You read that right, Square Enix has released a PSP game on the PSN. No one expected this to land digitally, but Senior Editor Nicole Kline speculated that because the NGP will for the most part use digital media, Square may finally have to get their act together. In any case, be sure to take a look at this masterpiece, as well as more information on the new games on the Store after the break (details on all of this week's add-ons can be found at the PlayStation.Blog). (more…)
Before the team formerly known as Quest made Final Fantasy Tactics, before they even needed the "formerly" in their name, a group of dedicated Japanese RPG developers churned out the masterpiece known as Tactics Ogre. The game focuses on the nation of Valeria, and the Liberation Army's struggle to bring freedom to an oppressed people. A big part of the game's attraction, apart from being an entry in the awesome Ogre Battle series, is that it is the spiritual predecessor to Final Fantasy Tactics, with a similar art style, combat system, and interface. After releasing only in Japan on the Super Famicom and Sega Saturn, a limited North American release for the PlayStation, and no fan translation in sight, many RPG fanatics gave up on playing this game. But finally, the game will see an all-new re-imagining and it's coming later this month.
The trailer shows a few animated scenes from the game, some in a normal animation style, others in a kind of story book mode. The iconic artwork of Akihido Yoshida is brought to life by the trademark sounds of Hitoshi Sakimoto, who went on to work on the newest big player in the Strategy RPG sub-genre, Valkyria Chronicles. If you're even remotely a fan of RPG's, Final Fantasy, or just own a PSP, this is a spectacle you don't want to miss. Tactics Ogre: Let Us Cling Together will release for the PlayStation Portable on February 15, 2011.