All Articles:
The Adventures of Shuggy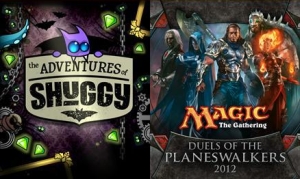 After two weeks without an Xbox Live Arcade update, Microsoft will add two games to the XBLA tomorrow.
The new additions include Valcon's puzzle platformer The Adventures of Shuggy and the collectible card game Magic: The Gathering – Duels of the Planeswalkers 2012. Both games will be priced at 800 Microsoft Points ($10) each.
You can find more information about both titles after the break. (more…)