All Articles:
The Baconing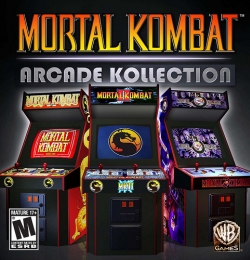 This week's additions to the Xbox Live Arcade are an almost mirror image of yesterday's PlayStation Store update.
The Mortal Kombat Arcade Kollection, The Baconing and Ugly Americans: Apocalypsegeddon all make the jump to the XBLA today. Also available is Atlus's Rock of Ages, a tower defense game with a twist:
A rock-solid combination of rock-rolling action, deep strategy, and captivating art and music from different ages of history, this is a game of crush or be crushed! Two castles stand opposed; one is yours, the other is your enemy's. They're a jerk and their castle sucks, so you're going to try to smash it using an enormous boulder. Even as they build up their defenses, you're ready to roll over them in order to raze that unsightly tower. But beware! There's a giant boulder headed your way, too.
The Mortal Kombat Arcade Kollection, Ugly Americans: Apocalypsegeddon and Rock of Ages are all available to download for 800 Microsoft Points ($10). The Baconing has been priced slightly higher at 1200 Microsoft Points ($15).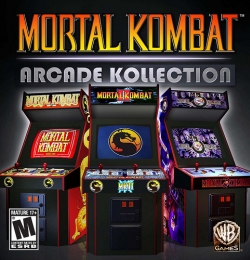 Sony's PSN Play promotion continues with The Baconing ($14.99), the latest installment in the DeathSpank saga. But Hothead's hero has been pushed aside a bit by another game available today, the Mortal Kombat Arcade Kollection ($9.99). Kompiling Mortal Kombat, Mortal Kombat II and Ultimate Mortal Kombat 3 together for the first time, the Kollection is a dream for arcade rats from the 90s.
These two titles aren't the only new additions to the PlayStation Store this week. Not by a long shot. Those looking for a new PSN game can also check out one of these five new releases:
4 Elements HD ($9.99) – A match-3 puzzler.
Ugly Americans: Apocalypseageddon ($9.99) – A twin-stick shooter featuring the stars of the Comedy Central show.
Shock Troopers ($8.99) – A run-and-gun shooter that originally appeared on the NeoGeo.
World Heroes ($8.99) – A NeoGeo fighter where you can pit Rasputin against Joan of Arc or have a Hulk Hogan ripoff battle a Bruce Lee ripoff. No Abraham Lincoln?
Elevator Action Deluxe ($9.99) – A newly reimagined version of the classic spy caper. Also includes the original Elevator Action.
Finally, PSN Plus users will receive early access to a demo of God of War: Origins Collection.
On the portable side of things, PSP owners will have a chance to download a quartet of new games including their own version of World Heroes and Shock Troopers as well as Madden NFL 12 and the wild Atlus RPG Cladun X2.
More details on all of this week's new releases and game add-ons can be found at the PlayStation.Blog.

The Summer of Arcade has been a great way for Microsoft to launch new games on the Xbox Live Arcade over the last three years. So Sony has decided to hold a Summer promotion of their with the similarly themed PlayStation Network Play.
The promotion will begin on August 23 with the release of Street Fighter III: Third Strike Online Edition. But PS3 owners will actually be able to "pre-order" any PSN Play pick five days before each game is released (and they'll receive a free theme as a bonus). Hothead's DeathSpank sequel The Baconing; Majesco's BloodRayne: Betrayal sidescroller; and Sega's top-down vehicle combat game Renegade Ops round out the PSN Play lineup.
Like the Summer of Arcade, gamers who purchase every PSN Play offering will receive a free game. In this case, it's Sony's Payday: The Heist (which is scheduled for a Fall release). And that's not all! Each game will also include exclusive DLC and PlayStation Plus subscribers will receive 20% off any of their Play purchases.
Sony has promised that the PSN Play promotion will be a yearly event, so start counting down to PSN Play 2012 now! Or get your fill of information for the 2011 lineup after the break. (more…)