All Articles:
The Evolution of Video Game Controllers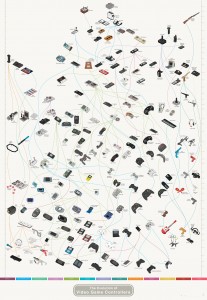 Ever wonder what it would be like to see every controller ever made in one lovely evolutionary wall print? Well wonder no more, because now it's a thing you can actually purchase. The Evolution of Video Game Controllers is a wonderful 27″ x 39″ print that will set you back $29. You can pre-order it now and it will ship on Monday, April 22.
From the write-up:
"The complete family tree of video game control schemes–including handhelds, joysticks, paddles, gamepads, and one notable glove–this chart shows how gaming input has evolved from simple knobs to directional pads to touch screens. Including every console ever, this sprawling print features 179 species and 12 genera over seven decades of gaming."
I'm about to move into a new apartment, and I think I just found the first item I'm buying for it. Who wouldn't want the Wu-Tang controller forever immortalized on their wall?