All Articles:
The Legend of Zelda: Four Swords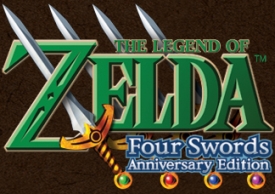 After weeks of weak offerings, Nintendo has finally pushed out an amazingly impressive Nintendo Download.
The big news is that The Legend of Zelda: Four Swords – Anniversary Edition is now available on the 3DS eShop and DSiWare Shop. But the bigger news is that the game can be downloaded for free from now until February 20, 2012 in honor of the franchise's 25th anniversary.
Also available this week on the 3DS eShop is Super Mario Land 2: 6 Golden Coins. Mario took a huge step forward in the handheld space with this game, which also introduced Wario to the world. It's available for the nice price of $3.99 (though it's not as nice as free).
In case either of these games don't interest you, three more games were added to the various download services today: puzzlers EscapeVektor: Chapter 1 (WiiWare) and Crystal Caverns of Amon-Ra (DSiWare) and the Pong-like Bugs 'N' Balls (DSiWare).