All Articles:
Tom Clancy's Ghost Recon Online

Despite Ubisoft CEO Yves Guillemont praising the Wii U numerous times this year, and with the company developing the very promising ZombiU as well as bringing Assassin's Creed III to Nintendo's new console, it seems work has stalled on the Wii U version of Tom Clancy's Ghost Recon Online. The official line from the game's producer, Theo Sanders, is that the team wants to focus all of their energy on the PC version before work begins on any console version. His full statement can be read here:
"As of right now, the entire Ghost Recon team is focused on the PC version only. The Wii U version is on hold. If in the future we have an opportunity to address it again, we'll make future announcements. But as of right now we're focused completely on the PC version. It's not a reaction to anything specific happening to Wii U. It was a really fun, cool platform to develop for. But you realise once you launch an online service that it's an all-consuming effort, so we really wanted to have all hands on deck. It was the same dev team working on both SKUs, and we really wanted to focus on doing the PC version right.

It's hard to say how the future will go for Ghost Recon Online. I think in the future, as different platforms evolve towards service models and towards being really online-driven, community-driven platforms, then we'll definitely be looking at what our options are… I think it's one of the strengths of the PC platform and I believe it's something that all console manufacturers understand to be a strength of the PC platform, and will definitely be looking for interesting and innovative ways to bring their own experiences to."
Despite the meek promise that the company may return to the project in the future, reading between the lines suggests something else is afoot, especially given all the references to online play in the PC market. It sounds as if Ubisoft is going to wait until after the launch of the Wii U to see if Nintendo's new online system attracts the numbers deemed necessary to move forward with a free-to-play game.
With Nintendo due to make a major Wii U announcement next week, hopefully with more specific details on the system's price and its launch date, lets hope it attracts more positive word of mouth than their E3 showing this year.
[Source: Video Gamer]

Assassin's Creed: Revelations… Driver: San Francisco… Call of Juarez: The Cartel… Tom Clancy's Ghost Recon: Future Soldier…
Ubisoft's E3 2011 lineup is full of familiar faces from the company's strong stable of franchises. But the publisher has also promised several "exclusive new announcements," so there's sure to be a few surprises next month. Maybe they'll even announce the long-awaited Beyond Good & Evil 2. But that's just speculation at this point.
You can check out the full list of titles Ubisoft plans to bring to E3 right here:
The Adventures of Tintin (TBA)
Assassin's Creed: Revelations (PC, PS3, Xbox 360)
Call of Juarez: The Cartel (PC, PS3, Xbox 360)
Driver: San Francisco (PC, PS3, Wii, Xbox 360)
From Dust (PS3, Xbox 360)
Just Dance Next (TBA)
MotionSports Adrenaline (Xbox 360)
Raving Rabbids Next (TBA)
Rayman Origins (PS3, Wii, Xbox 360)
Rocksmith (PS3, Xbox 360)
Tom Clancy's Ghost Recon: Future Soldier (PC, PS3, Xbox 360)
Tom Clancy's Ghost Recon Online (PC)
TrackMania 2 Canyon (PC)
Your Shape Next (TBA)
"Ubisoft has been delivering top-notch entertainment for 25 years, and we're incredibly grateful for all of our fans," said Yves Guillemot, chief executive officer at Ubisoft. "We plan for the upcoming years to be just as exciting and full of innovation, and the wide range of creative, fun and unique titles we're demonstrating at E3 illustrate the stellar talent of our development teams and Ubisoft's ongoing investment in delivering entertaining and innovative products to consumers."
Ubisoft will hold their 2011 E3 Press Conference on Monday, June 6 at 5:30 PM (Eastern Time). The publisher plans to broadcast a live stream of the presentation at UPlay.com and YouTube.com/ubisoft.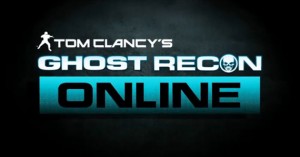 At Warp Zoned, we're expecting more info to be released on Tom Clancy's Ghost Recon: Future Soldier at E3, but today Ubisoft has detailed another upcoming game in the franchise. Ghost Recon Online will be a third-person, cover-based, free-to-play online multiplayer PC shooter, with features aiming to "rival the quality of those traditionally seen only in retail games."
On paper, it's looking like the game will do just that. With three classes, customizable weapons, persistent progression features, lobbies, live support, and "rich graphical environments and maps," Ghost Recon Online could be a heavy hitter in emerging online markets. Taking a cue from the recent success of Champions Online, the game will offer premium content to purchase while the core experience remains free.
Between this and Battlefield Play4Free, the landscape of online shooters sure is evolving. No date was specified, but Ghost Recon Online will go into closed beta sometime this summer.