All Articles:
Tom Clancy's Rainbow 6: Patriots
The latest Tom Clancy game from Ubisoft, Tom Clancy's Rainbow 6: Patriots, continues to give me "24" flashbacks. And the new trailer that debuted last night at the Spike TV Video Game Awards isn't doing anything to change my mind. Jack Bauer would have this mess cleaned up in an hour and still have time to save Elisha Cuthbert from a cougar trap.
Tom Clancy's Rainbow 6: Patriots will be released for the PC, PS3, and Xbox 360 sometime in 2013. That means there's at least 556,188 minutes on your terrorist-style LED timer before the game will be available in stores.

Ubisoft has dropped some new intel on the multiplayer mode and campaign for Tom Clancy's Rainbow 6: Patriots. Promising to "[capture] the reality of modern-day terrorism," the game will require players to make "tough ethical decisions in order to stop this new breed of terrorists."
Ready for those new details now? Here you go…
Unprecedented Narrative – Patriots' storyline explores an ultra-realistic what-if scenario inspired by real events and characters. The game will allow players to experience events from multiple perspectives creating an unprecedented level of immersion.
A New Threat For A New Team – Terrorism has evolved and Team Rainbow must face an organized militia of home-grown insurgents. As the leader of a new squad, players will wrestle with difficult ethical decisions and determine if the doing-whatever-it-takes mentality is needed to stop the enemy.
Enhanced Squad Management – At the press of a button, the Rainbow squad will perform the most efficient and deadly tactic given the context of the situation. When extreme measures are required, or when players call for it, you can take full control of your squad to plan the perfect assault.
Evolved Combat – The game's combat techniques have been pushed to the next level with cover and weapon systems redesigned to accommodate every combat situation. New Rappel and Breach mechanics are now enriched with multiple new techniques including Wall & Ceiling Breach, Fast Rope Rappel, inverted 'Aussie Style Rappel', Infiltrate & Subdue, to name a few.
Intense Multiplayer Experience – Players will be rewarded for working as a team and mastering the game's new features that enhance communication and tactical execution between teammates. Once such feature found in the pre-game online lobby is the Sandtable, a holographic display that helps acquaint players with the level maps before they jump into the action. This will help players strategically coordinate attacks and add a new dimension to squad tactics.
Surprise And Overpower Enemies – Utilize the game's new Scan mode to strategically breach and infiltrate areas. This new tool will provide a thermal read on the situation, allowing you to determine the squad's best course to overwhelm and defeat enemies.
Tom Clancy's Rainbow 6: Patriots will be released for the PC, PS3, and Xbox 360 in 2013.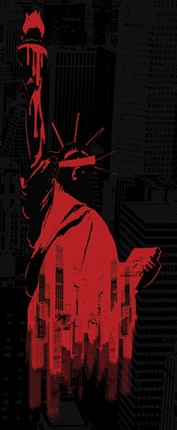 Game Informer has revealed that the cover of their December issue will belong to Tom Clancy's Rainbow 6: Patriots, the first new game in the Rainbow 6 series since 2008's Tom Clancy's Rainbow Six: Vegas 2. But don't get too excited just yet, the PC, PS3 and Xbox 360 game won't be released until 2013.
"Terrorism has evolved, and so has Rainbow 6," said Creative Director David Sears. "In Rainbow 6: Patriots, all the team play, tactics, and realism that fans of the series love have been coupled with an exciting new narrative direction. This adds an unprecedented level of humanity that will make Rainbow 6: Patriots an extremely tense and immersive experience."
Patriots will be developed by Ubisoft Montreal and will take the series into the realm of domestic terrorism for the first time (the "exciting new narrative direction" Sears was talking about). This time, the Rainbow team will be searching for the True Patriots, a militia organization that wants to "behead corporate America" and overthrow the U.S. government.
The word "controversial" is used multiple times in Game Informer's December issue tease. Yet, the game's story seems to be taking many of its cues from Timothy McVeigh and the 1994 Oklahoma City bombing. McVeigh even referred to himself as a "patriot" after his arrest.
It'll be interesting to see if Tom Clancy's Rainbow 6: Patriots is a "ripped from the headlines" adaptation of that terrorist act or if it'll pull a "24" and use the homegrown terrorist militia angle as a lead-in to something bigger.