All Articles:
Top Spin 4

The Spring thaw is doing more than raising the mercury in your thermometer, it's also bringing more big games to stores.
This week, THQ's Red Dawn-inspired war game, Homefront, will be released on the PC, PS3 and Xbox 360. In fact, Red Dawn director John Milius was heavily involved in the creator of Homefront's storyline.
Other big name releases this week fall into a few well known franchises:
Capcom will release Okamiden, pint-sized spinoff of Okami, for the DS
Sega brings Kazuma Kiryu back to America (but keeps the game's Japanese sensibilities intact) in Yakuza 4 (PS3).
Andre Agassi serves up his first video game appearance in over 15 years in Top Spin 4 (PS3, Wii, Xbox 360).
And finally, Sega will release Total War: Shogun 2 on the PC.
The full list of the rest of this week's new releases can be found after the break. (more…)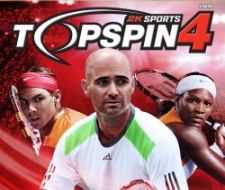 Andre Agassi is returning to a virtual tennis court for the first time in over a decade and he's bringing the largest roster of players ever to appear in a tennis game with him. 2K Sports has revealed that 25 players Top Spin 4 will be released for the PlayStation 3, Wii and Xbox 360 on March 15.
The complete roster includes:
Andre Agassi
Bjorn Borg
Roger Federer
Jim Courier
Rafael Nadal
Boris Becker
Serena Williams
Patrick Rafter
Michael Chang
Dinara Safina
Andy Murray
Novak Djokovic
Ana Ivanovic
Ivan Lendel
Pete Sampras
Andy Roddick
James Blake
Caroline Wozniacki
Nikolay Davydenko
Gilles Simon
Bernard Tomic
Eugenie Bouchard
Stanislas Wawrinka
Vera Zvonareva
Jelena Jankovic
PS3 and Xbox 360 owners can add a 26th player to the mix if they pre-order Top Spin 4: "Vintage" Andre Agassi. That's right, the mullet returns!
Agassi was quiet on the subject of his mullet, but he did say, "Tennis has been in my life for as long as I can remember. I hope that with Top Spin 4 players can enjoy the sport as much as I have."