All Articles:
Tumblestone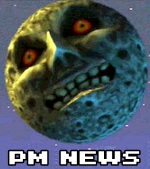 The Nintendo Switch continues its roll this week as indie developers have added another massive batch of games to the consolemaker's eShop.
Leading the way are Axiom Verge, the retro-styled MetroidVania from Thomas Happ, and Stardew Valley, the whimsical farming sim from ConcernedApe. Both games will be joined by Tumblestone, a "multiplayer action puzzler" from the Quantum Astrophysicists Guild.
Over on the 3DS, Nintendo will bring Mario & Luigi: Superstar Saga + Bowser's Minions, a remake of the beloved Game Boy Advance RPG, and Layton's Mystery Journey: Katrielle and the Millionaires' Conspiracy, the latest puzzle adventure from Level-5, to their handheld beginning tomorrow.
You can learn more about all of this week's additions to the Nintendo eShop after the break. (more…)