All Articles:
Uncharted: Drake's Fortune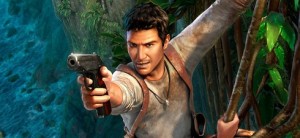 Brace yourself… the Uncharted film adaptation is undergoing yet another writer switch.
Joe Carnahan turned in a completed draft of an Uncharted film adaptation back in January, and filming was expected to begin this Summer with Shawn LevyAc in the director's chair. While Levy is staying with the production, Carnahan's script has been tossed out in favor of a "Young Nathan Drake" story that'll feature Spider-Man: Homecoming's Tom Holland as a teenage version of the adventurer.
According to Deadline, Sony Pictures is currently searching for a new writer to pen the screenplay. The report also claims that Tom Rothman, the Chairman of Sony Pictures, instigated the change after viewing an early cut of Holland's performance in Spider-Man: Homecoming and finding inspiration in a similar "Young Nathan Drake" level that Naughty Dog included in Uncharted 3: Drake's Deception.
Nathan Drake's video game career came to an end last Spring with the release of Uncharted 4: A Thief's End, but Naughty Dog plans to continue the series with a standalone spinoff, Uncharted: The Lost Legacy, for the PS4 on August 22.