All Articles:
Urban Champion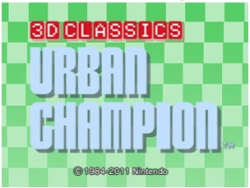 One of the most reviled NES games ever released, Urban Champion, makes its way to the 3DS eShop this week as part of the handheld's "3D Classics" line.
Also available this week is a trio of DSiWare games: Zoonies: Escape from Makatu, an animal kingdom platformer; Blockado: Puzzle Island, a puzzle game; and Build-a-lot, a SimCity-like city manager.
Finally there's Flight Control (WiiWare), an air traffic controller sim for the WiiWare service.
More details on all of these titles can be found in the Nintendo Download weekly newsletter.