All Articles:
Virtua Fighter 2

It's Sega fighting game day on the Xbox Live Arcade as three titles from the publisher's internal AM2 studio have been added to the download service. They're available for 400 Microsoft Points ($5) each and are sure to bring back some 90s nostalgia.
First up is Fighting Vipers (which had some of the best commercials ever):
Fight with flair in the return of Fighting Vipers, the classic arcade game from AM2 that was later playable on the Sega Saturn. Choose one of nine zany characters–including Grace the roller blader and Raxel the metal guitarist– and break your opponent's costume-based armor to maximize damage. Take advantage of all-new online modes to battle friends across the world.
Then there's Sonic the Fighters (possibly the first mascot fighter ever):
Join Sonic and friends in battle in this classic arcade game from AM2. Originally on consoles as part of the Sonic Gems collection, Sonic the Fighters is back with an all-new online mode, including both online versus and tournament play. In single player mode, choose from 10 playable characters and fight through 8 stages to stop Dr. Robotnik and Metal Sonic from unleashing the Death Egg II!
And finally we've got the classic Virtua Fighter 2:
Go back to the roots of 3D fighting with Virtua Fighter 2, the second title in AM2's flagship fighting franchise. Experience the legendary polygon-based 3D graphics and fluid fighting mechanics that made the game so influential in the arcades, and later on the Sega Saturn. With all-new online play you can battle friends throughout the world.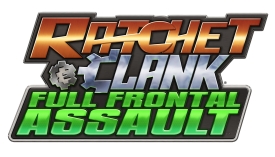 We've got a slightly subdued PlayStation Store update this week as only seven games were added to the service.
Leading things off is the latest Ratchet & Clank game, Ratchet & Clank: Full Frontal Assault. You know, I think using a double entendre as the title of a platformer that is basically for kids will never get old.
Also available this week is a trio Sega-published fighting games from the 1990s. All three games were developed by the company's AM2 internal studio and they all should conjure up some good memories: Fighting Vipers, Sonic the Fighters, and Virtua Fighter 2.
Rounding out this week's new releases is Men In Black: Alien Crisis (just in time for Men In Black 3's Blu-ray/DVD debut), Ace Combat: Assault Horizon, and the PSP game Phineas and Ferb Across the 2nd Dimension.
More information on all of these games can be found after the break. And a complete list of this week's new game add-ons can be found at the PlayStation Blog. (more…)