All Articles:
Warhammer 40000: Dark Millennium Online

There's a possibly apocryphal tale about former President Lyndon Baines Johnson's philosophy on political mudslinging that goes something this:
LBJ: Tell the public my opponent has sex with pigs.
Campaign Manager: But that's not true!
LBJ: I know, but let's make him deny it.
Keep that in mind as you read this story.
Kevin Dent, the head of the International Game Developers Association (IGDA) Mobile Special Interest Group, was tweeting up a storm yesterday about THQ. According to Dent, the publisher first canceled Warhammer 40,000: Dark Millennium Online and then canned their entire 2014 lineup. Yes, 2014. As in, the games they plan to release two full years from now.
THQ went into damage control mode and sent out a statement denying Dent's entire claim: "THQ has not cancelled its 2014 line-up, and has not made any decisions regarding the planned MMO."
Now for the "make him deny it" part. THQ hasn't been in good financial shape for a long time, but 2011 was acutally a good year for the company. Saints Row: The Third outperformed all expectations and while Homefront was critically panned, it still managed to sell a few million copies. That's a tremendous success for an untested and unknown franchise.
On top of that, THQ currently doesn't have a "2014 lineup." The publisher has announced a few 2013 titles (the Warhammer MMO, Homefront 2, Insane), but 2014 is a big question mark. So tabling a few unannounced games for the time being while working out some financial difficulties is actually a pretty sound strategy.
But by making them deny it, Dent gets his name in the news.

After a flurry of announcements this week, THQ has finally unveiled their complete E3 lineup. Aside from the new stuff like Metro: Last Light, WWE '12 and UFC Undisputed 3, this is the same lineup of games THQ talked about last year.
Sadly, there appears to be no mention of the publisher's more distant projects like Darksiders II, Devil's Third, Guillermo Del Toro's Insane and the Turtle Rock-developed first person shooter.
You can check out THQ's complete lineup after the break. (more…)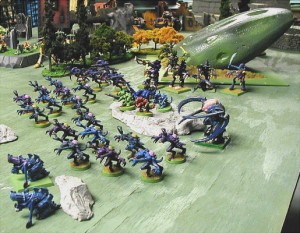 THQ and Games Workshop have announced today that they are renewing THQ's exclusive license to prepare video game adaptations of the popular Warhammer 40,000 tabletop war game.
The publisher has two Warhammer 40,000 games in development: PC/360/PS3 third person shooter Warhammer 40,000: Space Marine and MMORPG Warhammer 40,000: Dark Milennium Online. THQ President and Ceo Brian Farrell expressed his enthusiasm for both games, still scheduled to launch this year, saying, "our envisioning of the Warhammer 40,000 universe will continue to grow with top quality games across all platforms, including the upcoming launches of Warhammer 40,000: Space Marine and Warhammer 40,000: Dark Millennium Online."
The last big game to come out of this license, Warhammer 40,000: Dawn of War II, was a notable success among PC gamers, breathing a little extra life into the Real Time Strategy genre.
In other tabletop news, anyone wanna get in on a D&D campaign?