All Articles:
World of Warcraft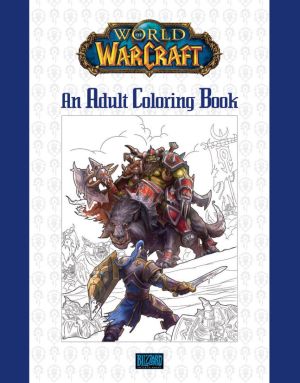 The "Fantasy" section at your local Barnes & Noble is probably overflowing with adaptations of Blizzard's biggest franchises. Yesterday, the developer announced their intention to get into the book-publishing business with the launch of their own label, Blizzard Publishing.
"Great stories and inspiring artwork have always been at the heart of everything we do," said Lydia Bottegoni, the Senior Vice President of Story and Franchise Development at Blizzard Entertainment. "The creation of Blizzard Publishing gives us new opportunities to celebrate the art and stories of our games with Blizzard gamers as well as fantasy and sci-fi fans around the world."
Blizzard is launching their new venture with World of Warcraft: An Adult Coloring Book, an "epic volume of more than 80 pieces of concept art, sketches, and more."
The Blizzard Publishing label will also be used to retell some of the expanded universe stories from years part, including a line of reprinted "Blizzard Legends" titles. The first three book in the "Blizzard Legends" line will be Warcraft: The Last Guardian by Jeff Grubb, Warcraft: Lord of the Clans by Christie Golden, and World of Warcraft: Rise of the Horde by Christie Golden. Blizzard will also reprint a series of manga collections, starting with Warcraft Legends: Volume One and Warcraft Legends: Volume Two.
Blizzard Publishing has plans to release a number of additional titles in 2017 including Art of Hearthstone, Cinematic Art of StarCraft, as well as additional novel and manga reissues. All Blizzard Publishing titles can be purchased from the Blizzard Gear online storefront, and many will also be available at your local bookstore.