All Articles:
WWE 2K15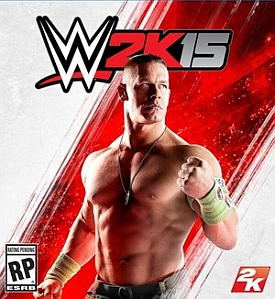 2K Games and the WWE have announced WWE 2K15 will be available for the PC (through Steam) on April 28.
The PC version of WWE 2K15 is described as a "mirror" of the PS4/Xbox One edition of the game that launched back in November. But it'll also come packed with all the previously released downloadable content as well. Here, let me turn it over to WWE wrestler (and coverboy) John Cena to tell you all about it.
"One of the great bonuses of getting the game on PC is that you get nearly all of the downloadable content that was released after WWE 2K15 launched in [November] free, as part of the package," Cena said. "That's an incredible amount of content… 36 extra characters, four new managers, 26 matches, 46 entire single-player stories and cutscenes in 2K Showcase, and a whole lot more. It doesn't take a rocket scientist to figure out that that's a pretty awesome deal."
Believe it or not, but Cena apparently played a lot of PC games back in the day: "Texas Instruments, Commodore 64… I was a huge PC gamer growing up, so this is big. Not only for our fans, but for me personally as well."
WWE 2K15 will be regularly priced at $49.99, but players who pre-purchase it before before the launch date will receive a 10% discount.