All Articles:
X-Men Destiny

A soccer showdown highlights this week's batch of new games as EA plans to release FIFA Soccer 12 on nearly every platform imaginable (3DS, PC, PS2, PS3, PSP, Wii, Xbox 360) while Konami brings Pro Evolution Soccer 2012 to the PS3 and Xbox 360.
But the biggest new release this week has nothing to do with the beautiful game… well it is a collection of beautiful games, that's for sure. I speak, of course, of The Ico & Shadow of the Colossus Collection. Two of the greatest and most acclaimed games of all-time have been remastered in high definition and are now finally available on the PS3. Oh, and speaking of HD remakes, Ubisoft is bringing Tom Clancy's Splinter Cell Trilogy to the PS3 as well.
Also available this week is Activision's X-Men: Destiny (DS, PS3, Wii, Xbox 360) and the first Tetris game on the 3DS, Tetris: Axis.
Check out the full list of the rest of this week's new releases after the break. (more…)
Posted in

3DS, DS, News, PC, PS2, PS3, PSP, Wii, Xbox 360
Tagged

FIFA Soccer 12, The Ico & Shadow of the Colossus Collection, X-Men Destiny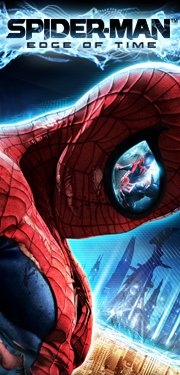 Activision has dug deep into their corporate pocketbook to pull out the Hollywood voice talent that'll headline Spider-Man: Edge of Time and X-Men Destiny this Fall.
Spider-Man: Edge of Time will star Josh Keaton as The Amazing Spider-Man and Christopher Daniel Barnes as Spider-Man 2099. They will be joined by Val Kilmer as Walker Sloan (a mad scientist in the 2099 universe), Laura Vandervoort (Lisa on "V") as Mary Jane Watson and Katee Sackhoff as the Black Cat. Interestingly enough, her "Battlestar Galactica" castmate, Tricia Helfer, voiced the character in 2008's Spider-Man: Web of Shadows.
For X-Men Destiny, Activision has enlisted the voice talents of three sci-fi veterans. Milo Ventimiglia ("Heroes"), Jamie Chung (Sucker Punch) and Scott Porter ("Caprica") will play three all-new mutant characters: Grant Alexander, Aimi Yoshida and Adrian Luca.
"These amazing casts of talented Hollywood actors help bring the rich storylines of Spider-Man: Edge of Time and X-Men Destiny to life," said Vicharin Vadakan, Director of Marketing, Activision Publishing. "Players this fall will get to control the destiny of their own mutants or save Spider-Man and through this voice talent feel like they are part of the action."
Playable demos of Spider-Man: Edge of Time and X-Men Destiny will be available at this weekend's Comic-Con in San Diego.

The 2011 E3 Expo opens today as Activision has released the final details their Call of Duty-centric lineup. The one-two punch of Call of Duty: Modern Warfare 3 and the Call of Duty Elite subscription service headline the publisher's announcement. They've even announced an official state date for Elite's invite-only public beta: July 14, 2011. According to Activision, over a million people have already registered to request a beta key.
The megapublisher plans to have a few other titles on display at E3 including the toy/game hybrid Skylanders: Spyro's Adventure, their other toy/game hybrid Wappy Dog, the game-to-movie adaptation Transformers: Dark of the Moon, the wild Prototype 2 and the Marvel-ous Spider-Man: Edge of Time and X-Men Destiny.
More information on Activision's complete E3 slate can be found after the break. (more…)