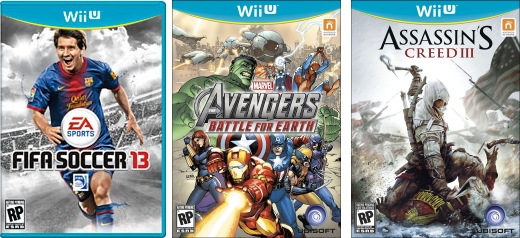 Another piece of the puzzle has fallen into place as a pair of online retailers have leaked out our first look at the box art design for Wii U games.
Assassin's Creed III and Avengers: Battle For Earth were both spotted at Amazon.ca while GameStop accidentally unveiled the cover for FIFA Soccer 13. The consistency of the design across both retailers means that it's unlikely these boxes are mockups or work-in-progress designs.
The two-toned semi-circle is identical to the game box design that Nintendo used during the GameCube era (albeit with teal and yellow instead of black and silver). And it's possible that Nintendo is switching up their case color of choice again as GameStop shows FIFA 13 with a teal-colored case.
It's not earth-shattering news, but as I said, one more piece of the puzzle has fallen into place. Hit the jump for a larger look at the Wii U box art design of Assassin's Creed III.