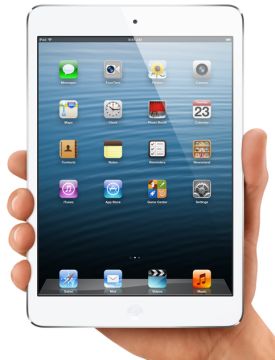 After all the endless speculation (I swear, it feels like I've been hearing about it since last year), Apple officially announced the iPad Mini at a media event today.
Clocking in at 7.9 diagonal inches, Apple is touting the tablet as "Every inch an iPad," even though they've lopped off a little over two inches from the device. That said, the iPad Mini will run every iOS app, even those designed exclusively for the iPad. It's spec sheet promises a 10-hour battery life, 5 MP camera, access to Siri, and support for the new Lightning connector. The Mini is also, obviously, the thinnest and lightest iPad yet.
The iPad Mini will be available on November 2 (pre-orders begin this Friday, October 26) in either black or white. Six different hardware configurations will be available, including:
$329 – 16GB Wi-Fi
$429 – 32GB Wi-Fi
$459 – 16GB Wi-Fi + Cellular
$529 – 64GB Wi-Fi
$559 – 32GB Wi-Fi + Cellular
$659 – 64GB Wi-Fi + Cellular
A complete rundown of the iPad Mini's specs and a comparison between the three iPad models can be found at Apple.com.