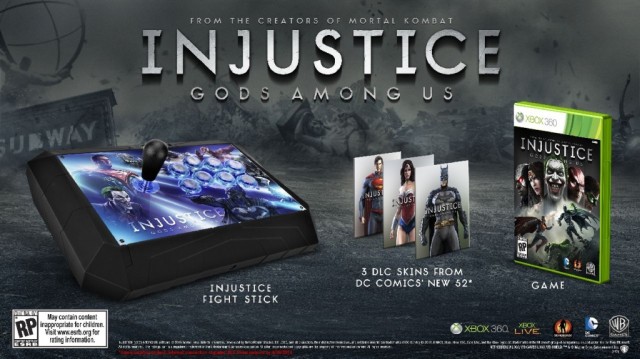 Warner Bros. Interactive Entertainment and NetherRealm Studios have announced that their DC Comics fighter, Injustice: Gods Among Us, will be available for the PS3, Xbox 360, and Wii U on April 16.
In addition to the previously announced Collector's Edition, Warner Bros. will release Injustice in a special "Battle Edition" that contains a custom fight stick, a New 52 Skin Pack, and a copy of the game. The fight stick will feature official artwork from Injustice as well as "adjustable illumination for the buttons and joystick." Because… sure, why not?
If you want to get a head start on the lore behind the game, be sure to download the Injustice: Gods Among Us #1 digital comic from DC's online store. The first chapter is available now and a new chapter in the weekly series will be released every Tuesday for $0.99.
A monthly print comic is also in the works. Each print issue will collect three chapters of the digital comic.