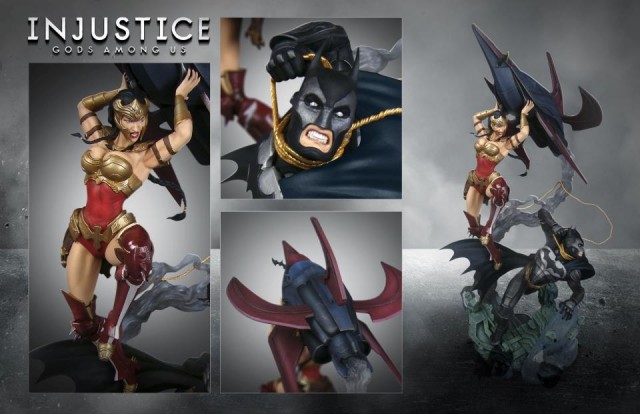 If you lay down your $99.99 to purchase the Injustice: Gods Among Us Collection's Edition, available in April for the PS3 and Xbox 360, you'll receive the statue above among your box of goodies. Look at it, I mean really look at it… Wonder Woman has lassoed Batman around the throat and is about to crush him with the spaceship that little Kal-El (AKA Superman) used to fly to Earth.
Deserves a place of honor on your mantle doesn't it?
In addition to the 13″ statue, purchasers will receive a "Special Collector's Edition" of a brand new DC Comics series, a digital download of DC Universe animated film Justice League: Doom, and three exclusive skins based on Batman, Superman, and Wonder Woman from DC's "New 52."
Warner Bros. and NetherRealm Studios are packing a different (and superior) statue in with the Injustice Collector's Edition in the UK. You can check out that awesome piece after the break.