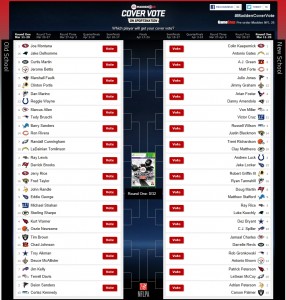 The initial bracket for the 64-man Madden NFL 25 Cover Vote debuted last night on ESPN2's SportsNation. The bracket is divided into "Old School" and "New School" divisions, ensuring the final round will pit a former star versus one of today's best players.
Jerry Rice won the play-in round against Chris Carter, so he's been slotted in as one of the #1 seeds in the "Old School" division. His 49ers teammate, Joe Montana, has received the other. Over on the "New School" side, Colin Kaepernick (another 49er) and Robert Griffin III are the #1 seeds.
While most of the "New School" picks make a lot of sense, some of the guys on the "Old School" side are just baffling. For example, Reggie Wayne is still an active player. As are Jake Delhomme and Chad "Ochocinco" Johnson (technically). And Ron Rivera? Sure, he was an OK player, but where's Bo "The Greatest Video Game Athlete Ever" Jackson?
Madden NFL 25 will be released for the PS3 and Xbox 360 on August 27. First round voting is open now at ESPN.com/MaddenVote and will continue through Wednesday, March 20. The winner will be crowned on Wednesday, April 24.
Hit the jump to view the complete Madden NFL 25 Cover Vote bracket.
Old School
1 Joe Montana vs 16 Jake Delhomme
8 Curtis Martin vs 9 Jerome Bettis
5 Marshall Faulk vs 12 Clinton Portis
4 Dan Marino vs 13 Reggie Wayne
6 Marcus Allen vs 11 Tedy Bruschi
3 Barry Sanders vs 14 Ron Rivera
7 Randall Cunningham vs 10 LaDainian Tomlinson
2 Ray Lewis vs 15 Derrick Brooks
1 Jerry Rice vs 16 Fred Taylor
8 John Randle vs 9 Eddie George
5 Michael Strahan vs 12 Sterling Sharpe
4 Kurt Warner vs 13 Ozzie Newsome
6 Tim Brown vs 11 Chad Johnson
3 Troy Aikman vs 14 Deuce McAllister
7 Jim Kelly vs 10 Terrell Davis
2 Deion Sanders vs 15 Cortez Kennedy
New School
1 Colin Kaepernick vs 16 Antonio Gates
8 A.J. Green vs 9 Matt Forte
5 Julio Jones vs 12 Jimmy Graham
4 Arian Foster vs 13 Danny Amendola
6 Von Miller vs 11 Victor Cruz
3 Russell Wilson vs 14 Justin Blackmon
7 Trent Richardson vs 10 Clay Matthews
2 Andrew Luck vs 15 Jake Locker
1 Robert Griffin III vs 16 Ryan Tannehill
8 Doug Martin vs 9 Matthew Stafford
5 Ray Rice vs 12 Luke Kuechly
4 Dez Bryant vs 13 C.J. Spiller
6 Jamaal Charles vs 11 Darrelle Revis
3 Rob Gronkowski vs 14 Antonio Brown
7 Patrick Peterson vs 10 LeSean McCoy
2 Adrian Peterson vs 15 Carson Palmer