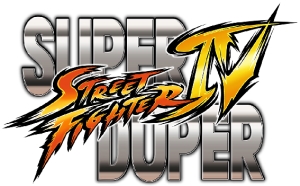 After Street Fighter IV, Super Street Fighter IV, and Super Street Fighter IV: Arcade Edition, it's not hard to believe that Capcom would release one more update to the popular fighting game. And guess what? According to the Capcom-Unity blog, it's Super Duper:
Introducing the Duper Meter. This will sit below the Super Meter and be easily identifiable with it's Yellow color. With the Duper meter, Super moves can now take on the properties of EX Moves after their activation or be used to strengthen EX moves in general. The Duper Meter also builds 1.5 times faster than the normal Super Meter. Now players will get even more options to select from as we know Street Fighter 4 players love option selecting.
Super Duper Street Fighter IV won't be coming to the PS3 and Xbox 360 anytime soon because it's an April Fool's Day joke.
Gag Reflex: Previous games in the Street Fighter series have carried run-on titles like Super Street Fighter II Turbo: Hyper Fighting and Street Fighter III: 3rd Strike: Fight For the Future, so "Super Duper" isn't that much of a stretch. You probably won't stumble across a more believable hoax all day.