Two weeks ago, former British Prime Minister Margaret Thatcher passed away. Our coalition government saw fit to spend £10 million of taxpayers' money on her funeral. This was a woman who divided the country, and whose iron grip is still curled around Britain's bleeding heart. The rich and powerful turned up to see her off, while poverty-driven protesters quite literally turned their backs on the funeral procession. The BBC refused to play "Ding Dong the Witch is Dead," an anti-Thatcher song taken from The Wizard of Oz, after her haters propelled it to number two on the UK music charts. If anyone could suck the fun out of life, it was Thatcher.
A couple of days after she kicked the bucket, I learned that a humble New Zealand pub owner named Les Lisle had passed away. I met Les only once, in 2011, while travelling the globe with a ginormous backpack strapped to my back. It was customary to stop at the Mahinapua Pub, affectionately known as the Poo Pub, on the way to the town of Wanaka. The tour company I was travelling with booked the place out for a slap-up meal followed by a fancy dress party. When we arrived, old Les (who was 85 at the time) got on the bus and laid down the rules of his house in a well-practised and often funny speech. When we ventured inside his pub, we found the ceiling covered with hats; there were over 3000 of them, all tacked to the ceiling. Les told me some were his, and some were donated by the travelers who passed through. He was managing that pub of his before I was even born. I doubt he played many video games – there was a pool table and dart board – but he was an agent of fun, and probably managed to affect more peoples' lives in a positive light than Thatcher did with her negative rule. They were both born in 1925, and died with days of one another. If anyone deserved a £10 million funeral, it was Les Lisle.
Unfortunately, I barely have £10, so in honour of his youthful spirit in the face of old age, I'm dedicating this month's Kickstart This! to Les. Let's see if we can channel some of that positive spirit into funding projects that are fun for all, such as the 2D upward-scrolling platform puzzler Brave Bit, hand drawn sci-fi adventure gameA Small Favor, 8-bit microorganism sim Bitcrobes, and underwater tower defense title Fish vs. Crabs. And just to shake things up, we also have the helpful app GameSnap, and last but not least, PWNED: A Gamers Novel, a romantic comedy adventure set within an MMORPG.
Let the games begin!
Brave Bit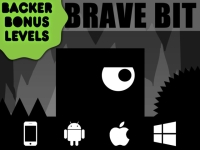 Graphically inspired by the likes of Limbo and World of Goo, Brave Bit is surprisingly the work of one man, Rakesh Ram. The simple characterisation plays to the game's strengths, as does the unique mechanic of progression. The player must guide the cube Brave Bit across the floor. Once he makes it through the right hand side of the wall, he will appear on the left hand side of the upper level. Of course, it's not quite that straightforward. There are chainsaws and portals and death rays and many other intricate traps that will kill our brave little cubic hero.
As he is doing most of the work on the game, Rakesh is seeking the very small sum of £1,000. If you donate £1, you get the game for free on either Windows 8, Mac, iOS or Android as well as your name in the credits. And that's it. Rakesh has hit upon a rather unique Kickstarter model, where rather than limit the top tiers, he has limited the bottom, so the first 100 people will get the game for £1, and then afterwards you will have to donate £2 or more. If you are feeling generous, for £8 (the price of two London pints) you will receive the game on all four platforms.
A Small Favor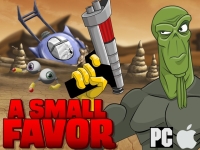 As soon as I saw the artwork for A Small Favor I knew it was going to be something special. The hand-drawn animation makes the visuals pop to life in a Full Throttle kind of way, but with a 2D plane. The game is actually a reboot of 2009's Flash point-and-click game series of the same name. It features an alien assassin (think The Rock, but green) who is trying to escape the clutches of evil gangster Sirius Frost. Featuring some propaganda posters that are reminiscent of Fallout 3, they explain that favor-trading is illegal, but something you must do in order to solve puzzles and move forward.
Ohio outfit ClickShake Games is seeking the tidy sum of $30,000 in order to bring their re-imagined game to Mac and PC when it launches in October 2013. For $10 or more you will receive a digital download of the game itself, access to an exclusive back forum, and your name in the final credits. If you double down and raise your stake to $20, you will also receive ClickShake's first game, The Ballads of Reemus. On the flipside of the coin, a pledge of $1,000 will not only allow you to create an item, a character and a mission for the game, but the developers will make you a playable character in a hidden side mission. For that price, starring in your own mission is pretty sweet.
Bitcrobes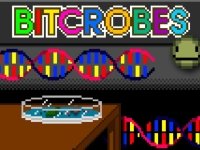 This small, pixel art project for iOS is best summed up as Sim Biology, or Spore on a very small scale, both within the game and in development. You will follow your little microbe from the petri dish to areas filled with bacteria. Choosing how your microbe will evolve and what features it will grow effects how it survives in the different environments.
The project is being spearheaded by Jonathan King, who is looking for the small sum of $660 to finish the game before its launch in May. Because it is such a small project, there are only four tier levels; $10, $25, $50, and $100. The lower end comes with gratitude and mobile wallpaper, while the top end of the food chain sees you awarded an in-game credit, immediate access to creative mode, as well as your very own microbe.
Fish vs. Crabs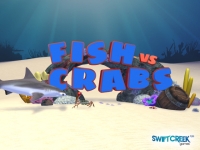 Those who read the title and were expecting another Plants vs. Zombies rip-off will be pleasantly surprised to see how wonderful this 3D underwater tower defence game looks. You control a ragtag school of fish, protecting their eggs from a marching army of crustacean fiends. As well as adding different fish to fight the crabs with different powers (my favorite is the puffer fish), players can also find hidden items by completing side challenges.
Swift Creek Games is seeking $35,000 in funding to help finish the game, and elevate it from its indie origins to AAA level of quality. Should they go over their target and hit $80,000, the company hopes to develop Oculus Rift support to give the game a more immersive feeling. If donations reached the $500,000 mark, the company would consider adapting the game to consoles as well.
However, their bare bones requirement is $35,000 in order to finish the game for PC, Mac and Linux. Fish vs. Crabs is currently featured on Steam Greenlight, so you can help by voting there as well. If you feel like treading the waters a little, a $10 donation will grant you early access to the beta testing of the game, as well as a digital download when the final version is complete. Deep down into the blue seas, there is a treasure limited to only one person for a pledge of $1,000. Your name will be forever celebrated by being adorned upon a pirate ship within the game. You will also help design its flag, name a fish, wear a T-shirt, and play the game.
GameSnap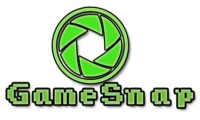 As fun as games are, at times they can be tough. Irritatingly, annoyingly, throwing-controller-at-the-television tough. Back in the days of the NES you were limited by how you could overcome this. You could a) ask a friend who you considered a gaming guru to help, b) buy a guide or magazine, or c) phone a ridiculously expensive hotline, and face the wrath of your parents after reading the phone bill. But you would know how to defeat the Level 8 Boss!
Nowadays we have the Internet, but even still, it can be exhausting trying to find the exact little bit you need help with, especially given the size of some games. That is where the Android App GameSnap comes in. Simply take a picture of where you are stuck in the game, and GameSnap will determine where you are, and extract the necessary information for you to continue. Simple.
GameSnap is the brainchild of Cincinatti student Noah Glaser, who is seeking $20,000 in order to collect information on as many games as possible, and run the servers it will be stored on. So what is he offering for your kindness? Well, for $10 you will get the app once it is finished, as well as a sticker. Add $20 onto this to upgrade to a bumper sticker for your car. However, if you decide to climb to the top tier of $10,000 (limited to 10 lucky people) you will have a "best friend forever." Your new BFF will also take you on a "business excursion" with lodging included (wink wink, nudge nudge, say no more, say no more).
PWNED: A Gamers Novel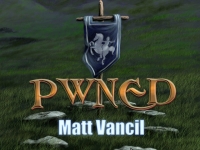 Speaking of blossoming romances, Matt Vancil wants to court you for your coin. The comedy writer and filmmaker, best known for web series JourneyQuest, is hoping you can help him turn his long-gestating screenplay into the first in a series of novels. The story is based around a fictional MMORPG, Fartherall Online, into which the fearless protagonist Reid ventures via his avatar Noob, in order to find his lost love, Astrid Wheeler. You can read the third chapter, Making Enemies, for free, in order to judge whether you wish to read any more – and if you do, get ready to donate some money.
For a donation of $10, your name will be inscribed within the book as a supporter, and you will receive a digital copy in both Kindle and ePub file formats. For those of you who like to rock your books old-school, $25 will see you gifted with an autographed softcover edition, while $50 upgrades you to the hardcover. The highest tier of $5,000 (and limited to one person) is, on the face of it, slightly cheeky. Rather than pay for you to fly and meet him, Matt will fly to you to hand-deliver a copy of the book and read you excerpts. He will also join you in some RPG sessions if you and your friends fancy playing with a pseudo-celebrity. This also includes the previous two tiers that allow you to help create a character and a game zone within Fatherall Online, with the chance of seeing them in future productions set it Vancil's Hopjockey universe.
As Sheryl Crow once sang (she is still a relevant pop culture reference!), "All I want to do is have a little fun before I die." So what will it be? Will you, like Les Lisle, be a positive influence, and donate a little bit of money to help someone's creative project come to fruition? Or will you be a Thatcherite, helping no-one, hoarding all that money and power that you cannot take with you once you shuffle off this mortal coil? If you cannot afford to make a donation, then perhaps you can share these projects with your friends and nemeses, and they can share, and so on and so forth, until that 100% mark has been hit.