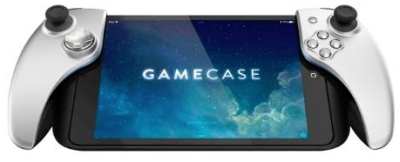 Yesterday, Apple gave users their chance to download iOS 7, the latest update to the operating system behind the iPhone, iPad, and iPod Touch. In addition to a variety of interface design changes, iOS 7 adds controller support to your iDevice. Today, ClamCase announced the first controller attachment for iPhones and iPads… the GameCase.
Exploring the add-on's official website gives you a pretty good idea what the GameCase is capable of. It appears to be a dock that your iPhone or iPad (no iPod Touch support at this time) sits in. The controller inputs (which are laid out in a traditional console controller pattern of two analog sticks, a D-Pad, four face buttons, and four shoulder buttons) interact with the iPhone/iPad using iOS 7's MFi wireless controller standard. As the GameCase is considered a "wraparound" controller, it also allows players to use the gyroscope/accelerometer for motion controls and the touchscreen for, well, touching.
No release date or price for the GameCase were revealed, but it's sure to be the first of many iOS 7-powered controllers announced in the coming weeks.