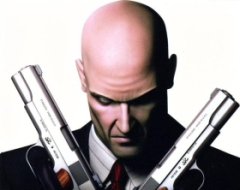 A week after Square Enix dropped the cancellation hammer on Square Enix Montreal's Hitman spinoff, IO Interactive has posted an open letter to the official Hitman website detailing their work on the currently-in-development Hitman 6.
The IO Interactive team is going big with Hitman 6, promising "an extreme level of detail" and "the largest levels ever built for a Hitman game." They're also bringing the series back to its roots, stating that the Agent 47 of Hitman 6 will be in the prime of his career, "stalking his prey across the world," with the help of his handler, Diana Burnwood:
The game concentrates on the core Hitman fantasy of using a wide range of tools to take out a diverse group of targets across expansive, exotic locations around the world. We are building this game on the backbone of the Glacier 2 engine, using the best parts and what we have learnt through Hitman: Absolution and drawing inspiration from past titles like Contracts and Blood Money to fulfil the core Hitman fantasy. That means we're packing in an extreme level of detail on the largest levels we have ever built for a Hitman game. We've adopted an open, non-linear level design approach to the game, ensuring the game will play out across huge, checkpoint-free, sandbox levels. Our aim is to create living, breathing and believable levels which will allow gamers to play around with the AI to create those unique moments every fan of the Hitman franchise loves.
In addition to the single-player campaign, the HORSE-like Contracts Mode will return, allowing players to once again compose the perfect hit and challenge others to match it. IO also confirmed that 47's "magic pockets" will not make a return appearance.
Hitman 6 is in development for next-generation consoles and the PC. IO Interactive has promised that we'll learn more about the game throughout 2014, but a release has yet to be announced.