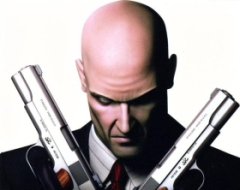 Square Enix Montreal opened in 2011 and its first mission was to create a new game in the Hitman series for next-generation consoles. It looks like that mission is a failure as VideoGamer has surmised that the project has been terminated.
According to the LinkedIn profile of Senior Game Designer Richard Knight, the new Hitman game was to be a "re-imagining" of the character, going back to the roots of the first game, echoing what happened with the new Tomb Raider. However, the news does not mean the end for the bald and barcoded Agent 47. Square Enix Montreal is still in business and has shifted its focus to the mobile games market. And one of their mobile projects is an as-yet-untitled Hitman game that will soon be making its way to a smartphone/tablet near you.
As for a next-gen Hitman game, Square Enix has handed the reins back to IO Interactive, the company that created he franchise. The company plans to focus "resolutely on the future vision for the Hitman franchise" and is already "in pre-production on a new AAA Hitman project." However, it's unclear whether that title is the same one that Square Enix Monreal scrapped, or if it's something completely different.