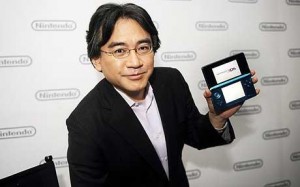 Nintendo's President, Satoru Iwata, has already apologized to shareholders for the poor sales performance of the Wii U in 2013. But now the beleaguered executive is going one step further and slashing his salary to atone for Nintendo's overly optimistic Wii U sales forecast.
Iwata will take a 50% reduction in his salary for the next six months. At that time, if Nintendo is still hurting financially, Iwata said he may continue to discount his salary through the Summer and beyond. Other members of Nintendo's Board of Directors, including legendary game designer Shigeru Miyamoto, will also reduce their salaries by 20 to 30 percent.
This isn't the first time Iwata has cut his salary to save face in front of investors. In 2011, poor sales of the 3DS also forced Iwata to take a 50% pay cut.
[Source: AFP]