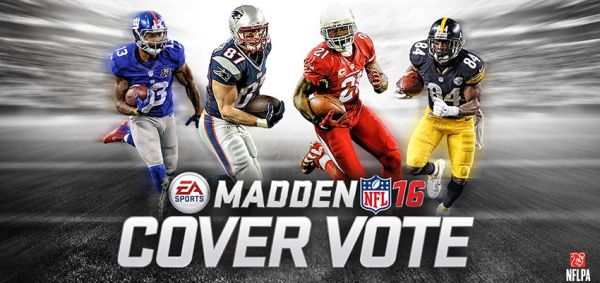 In years past, EA Sports has used the Madden NFL Cover Vote to pit dozens of professional football players against each other to decide who deserves the right to be represent the game on store shelves. This year, only four players will duke it out in a shortened contest that will be completed by next Wednesday.
The voting procedure has also been considerably revamped this year as only owners of Madden NFL Mobile and Madden NFL 15 will be able to cast a vote in the semifinal round. Voting starts today and will end on Monday, May 11 at 3:00 AM (Eastern Time). Players can earn up to five votes per day, and the two highest vote-getters will go head-to-head in an ESPN.com poll on May 13. Full details on the voting rules are available at the official Madden site.
So who's in the running for the Madden NFL 16 cover? Glad you asked…
Odell Beckham Jr. (WR) – New York Giants
Antonio Brown (WR) – Pittsburgh Steelers
Rob Gronkowski (TE) – New England Patriots
Patrick Peterson (CB) – Arizona Cardinals
Which man has your vote? Does Odell Beckham's catch still make you gasp? Is Antonio Brown's 2014 offensive line still impressive? Is you reaction to Patrick Peterson something other than "Who?" Or are you still charmed by Rob Gronkowski's Mortal Kombat X prowess?