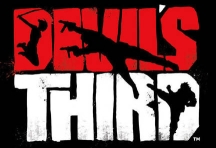 The tumultuous development cycle of Devil's Third is finally starting to get to Tomonobu Itagaki, the game's Director. The Wii U exclusive has been beset by the bankruptcy of its original publisher, a rocky relationship with its current publisher, an engine switch, and upgrading to a new console generation in mid-development.
Itagaki, who is no stranger to speaking his mind, took to Facebookto blame Devil's Third's poor reception on game journalist's overall lack of skill:
Guys, At last, I was be able to understand about the reactions. Devil's Third is the game which reflects the player's skill directly/vividly. This is truth.
Game developers claiming any negative reviews are the result of the game journalist's skill, or lack thereof, is nothing new. But when game journalists are in almost universal agreement that a game isn't very good, it's possible the game might not be very good. Criticism exists to inform readers, not to wage vendettas against people the critic doesn't even know.
Hopefully Devil's Third will be a good game, and who knows, maybe the people playing it weren't very good. But we won't know for sure until the game's launch this August in the UK and Japan.