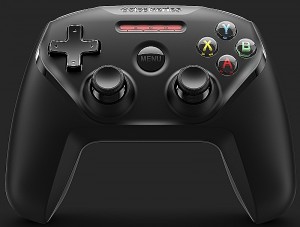 The voice-controlled Siri Remote was the centerpiece of Apple's "All-New Apple TV" unveiling on Wednesday, and the hardware giant neglected to mention anything about MFi Controller support even though the microconsole is certainly capable of handling console-style games. Thankfully, we now know the box will include MFi Controller support as a proper controller designed specifically for the All-New Apple TV is on the way from SteelSeries.
Looking very similar to a melding of the Xbox One Controller and the Wii U Pro Controller, the SteelSeries Nimbus includes four face buttons, two shoulder buttons, two trigger buttons, two analog sticks, a D-Pad, and a centralized Menu Button. The Nimbus is powered by a rechargeable battery (with a Lightning connector) that'll offer more than 40 hours of playing time.
"Nimbus is the result of a lengthy and rigorous R&D effort," said Craig Olson, President of SteelSeries Worldwide Mobile. "Our engineers and designers have worked tirelessly to create a wireless gaming controller worthy of the new Apple TV. Nimbus will allow consumers around the world to play amazing games on Apple TV, iPhone, iPad, and Mac with an unprecedented level of performance."
The SteelSeries Nimbus has been priced at $49.99 and will be available across the globe beginning in late October.