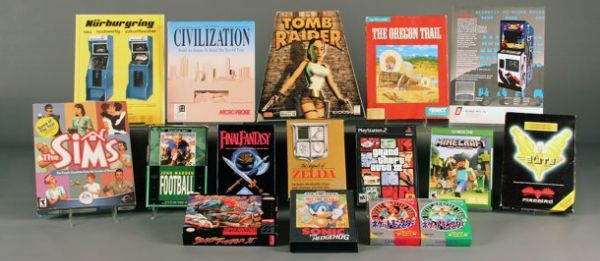 We're just a few days away from learning which games will be inducted into the World Video Game Hall of Fame this year. In 2015, Tetris, Super Mario Bros., Pong, Doom, World of Warcraft, and Pac-Man were selected as the inaugural class by the institution's induction committee. The Hall's Class of 2016 will be announced on Thursday, May 5, and five or six games are once again expected to rise above the other finalists.
But which of the 15 finalists will be honored this year? Using the Hall's induction criteria as a guide, I can think we can determine the odds of which games will make it in and which will have to wait until next year.
Induction Criteria

Icon Status: The game is widely recognized and remembered.
Longevity: The game is more than a passing fad and has enjoyed popularity over time.
Geographical Reach: The game meets the above criteria across international boundaries.
Influence: The game has exerted significant influence on the design and development of other games, on other forms of entertainment, or on popular culture and society in general. A game may be inducted on the basis of this criterion without necessarily having met all of the first three.
The Sure Things
The Legend of Zelda
Six games were selected for induction into the World Video Game Hall of Fame last year, and I'm convinced The Legend of Zelda missed out by the slimmest of margins. Naturally, the committee will correct that mistake this year, and just in time for the 30th anniversary of the game's release in its native Japan, too. (Odds: More Than 99%)
Street Fighter II: The World Warrior
Celebrating its 25th anniversary this year, Street Fighter II put the one-on-one fighting game on the map, rescued dilapidated arcades from ruin (for a few years, anyway), and launched a thousand Ree-Yoo/Rye-Yoo debates. And with the rather tepid response to Capcom's Street Fighter V, I think the induction committee will remember exactly how important Street Fighter II has been for the last quarter-century. (Odds: 90%)
Space Invaders
Space Invaders set the world on fire in 1978 and proved that this whole video game craze was more than just Pong. Even if you don't believe the rumors about it causing a coin shortage in Japan, there's no denying how much Space Invaders changed the world. And even the pixelated depiction of the "Invaders" has become synonymous with video games. (Odds: 85%)
Space Invaders may have missed out on induction last year, but that won't happen in 2016.
The Sims
The Sims loomed large as the best-selling PC game of all time for many years, and Will Wright has a close relationship with the Strong Museum of Play, but can this virtual dollhouse win over the induction committee? I think it can, and this short description from the Hall's media packet might be the best reason why: "The Sims pushed the boundaries of what a video game could be by allowing players flexibility to tell stories in an open-ended environment. By simulating the complexities of human relationships, The Sims taught players to view their own lives in new ways."
Giving your Sims a place to live is a concept that is still fairly unique in the video game world. No one has been able to capture the public's fascination over and over again like Wright, and, like SimCity, The Sims transcends the traditional video game player stereotype. Even if you spent the 90s blasting away at demons in Doom and Duke Nukem, your millennium began with selecting the perfect wallpaper for your bedroom. (Odds: 60%)
The Coin Flips
Pokemon Red and Blue
At 34, I've always felt a bit too old for the Pokemon franchise. I know folks who are older than me who love the series, but I just couldn't tear myself away from Super Mario 64 and GoldenEye long enough to give it a chance. Clearly, it's my loss.
That said, I'm not sure how many people on the induction committee are like me, and how many have embraced the "Gotta Catch 'Em All" mentality of the series. With Red and Blue celebrating their 20th anniversary in 2016, the possibility of a live-action Pokemon movie, and the fact the game is the overwhelming favorite in the Hall of Fame's Public Poll, I'm giving this pair of games a better-than-even shot at being inducted this year. (Odds: 55%)
Minecraft
Minecraft is the most popular game of the last decade… and I have no idea where it fits in any discussion about the World Video Game Hall of Fame. Mojang's first-person sandbox adventure has snared more kids in its voxel-shaped claws than any game since a certain mustachioed plumber first donned his famous overalls. Educators are able to use Minecraft's ubiquity with kids to teach them to think more creatively and to further STEAM programs. It's even done a lot for making a retro aesthetic feel like an art choice instead of a technological limitation.
But is it Hall-worthy? That depends entirely on your thoughts about… (Odds: 50%)
The Oregon Trail
Everything Minecraft did, The Oregon Trail did first. Recreating the journey west for an entire generation of kids, The Oregon Trail was the first game to combine learning and fun. We knew it was supposed to be "educational" to learn about what it took for western settlers to survive the trip (and dysentery), but it also gave us the chance to name our party after our friends (and possibly bury them after they got dysentery).
The Oregon Trail's simple, but enduring, design has allowed it to jump from platform to platform for the last 45 years. Starting on mainframe computers before moving on to the Apple IIe, then moving to more modern platforms such as Windows machines and mobile devices, it became the kind of experience that everyone of a certain age could share and that might not happen with another game ever again. (Odds: 50%)
Final Fantasy | Grand Theft Auto III | Tomb Raider
If Minecraft and The Oregon Trail are coin flips, then they're easily joined by Final Fantasy, Grand Theft Auto III, and Tomb Raider. All three are tremendously entertaining and influential games… Final Fantasy popularized the RPG genre for an entire generation of players… Grand Theft Auto III propelled the franchise to the big leagues and launched the "open world" craze… and Tomb Raider gave us Lara Croft. But all three are also in limbo and will likely have to wait their turn behind several more deserving titles.
They'll all make it in eventually, but this is not year. (Odds: 50%)
The Wait-Til-Next-Years
Sonic the Hedgehog
Sonic the Hedgehog has always played second fiddle to Mario, and for good reason, as the plumber is, without a doubt, the most recognizable game character ever. But with Super Mario Bros. taking its place in the Hall of Fame last year, it would make sense for Sonic the Hedgehog to follow in close behind. Unfortunately, the two characters have traveled in opposite directions in recent years, and I'm not sure Sonic has the juice to convince the induction committee.
Like many of the games on this list, Sonic the Hedgehog is celebrating a big anniversary in 2016 (its 25th), but Sega's planned celebration won't begin until after the vote, and the half-decade since Sonic's last critically-acclaimed game (Sonic Generations) feels like an eternity. (Odds: 45%)
Sid Meier's Civilization
Five games in the Civilization franchise have been released over the last 25 years, not to mention countless spinoffs, competitors, and clones. But ask yourself, which one is your favorite? Sid Meier's first empire-building simulation has its fans, but it will always be overshadowed by its sequels. However, the same could be said for Super Mario Bros., and it was inducted into the Hall of Fame last year. I just don't think Civilization can pull off the same trick. (Odds: 40%)
John Madden Football
Electronic Arts has released a new John Madden Football game every year (or close to it) since 1990. Like a real football drive, the Madden games slowly push down the field inch by inch, adding just a little bit to the core of the series every year. The franchise as a whole is what's important, and like our analogy, the individual plays don't matter much. Besides that, the franchise's inaugural edition is more-or-less unrecognizable as a Madden game.
Its influence is undeniable, but the same could be said about Madden 95, Madden 2001, and Madden 2005… or Tecmo Super Bowl, for that matter. (Odds: 30%)
Elite
Elite, released in 1984, was a hugely immersive intergalactic flight sim and one of the first games to feature 3D graphics. Hacked together by David Braben and Ian Bell in a series of dorm rooms during their collegiate days, the game was incredibly popular in Europe, though it eventually found its way to the rest of the world as well.
Though Elite stands as one of the most influential games of all time, it never garnered the widespread appeal of the rest of this year's finalists. Its rollout across the world coincided with the launch of the NES, and its debut on the BBC Micro meant that few on the other side of the Atlantic could play it at first. And that's why I don't think it'll do well with the selection committee, which is heavily made up of members from North America. (Odds: 1%)
Nurburgring
Nurburgring was released in 1975 by a German development team and became the first racing game to offer players a first-person view from behind the wheel. It is also completely forgotten nowadays, having been supplanted by more modern racing sims like Gran Turismo and Forza Motorsport. And in the public poll on the Hall of Fame's website, Nurburgring has only earned a handful of votes.
It's important to be first, but it's more important to be remembered. (Odds: Less Than 1%)
Wanna Make A Bet?
Do you see the odds differently? Let us know what you think in the comments below, and be sure to check back Thursday, May 5, to find out which games will be included in the World Video Game Hall of Fame's Class of 2016.