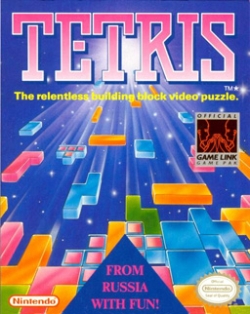 Nearly two years ago, the producer of Mortal Kombat and Mortal Kombat: Annihilation, Lawrence Kasanoff, surprised the world by saying he was going to turn Tetris into a blockbuster film franchise. We all had a good laugh at the sheer absurdity of an action movie starring animatronic Tetris pieces and then we forgot about it. But Kasanoff didn't forget, and he was just biding his time until a group of investors decided to drop a bag of cash into his lap.
According to a report on Deadline, Kasanoff's Threshold Entertainment has partnered with Bruno Wu of Seven Star Works to produce Tetris: The Movie. The $80 million film will be shot in China and other locations with a predominantly Chinese cast, though Kasanoff said he makes "world movies for the world market."
So how do you make a movie out of Tetris? Beats me, but Kasanoff said he has that part figured out too. Tetris: The Movie will be a "sci-fi thriller," and also, "the first in a trilogy." It's an ambitious plan, and while I can't wrap my head around the idea of Tetris as a sci-fi thriller, maybe Kasanoff has an elusive line piece in his back pocket.
Meanwhile, director Brett Ratner is continuing to work on his biographical film about the life of Tetris creator Alexey Pajitnov. It's currently without a release date, but maybe we'll have another Armageddon/Deep Impact situation on our hands.