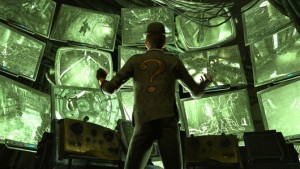 I guess Batman wasn't prepared for this one…
WB Games has announced that Batman: Return to Arkham, a remastered compilation of Arkham Asylum and Arkham City for the PS4 and Xbox One, will miss it's originally scheduled July 26 release date. Steve Grayson, one of WB's community moderators, delivered the bad news on the game's official forum by citing concerns about the quality of the game as it exists right now:
After reviewing the progress of the project, the team at WB Games has decided to delay the release of Batman: Return to Arkham to give the team at [Virtuos] Games additional time to deliver a polished Batman Arkham game experience.
Even though Return to Arkham was announced just five weeks ago, Grayson also revealed that WB Games isn't ready to commit to a new release date just yet:
We do not have a release date yet and will be sure to communicate that once we are sure the game will be ready. We know this is disappointing news, but we feel the extra time will allow the team to create the best gaming experience for our fans.
On a slightly different Bat-Channel, Telltale recently announced they expect to launch all five episodes in their Batman series by the end of the year.